News Stories
Category: Arrests
Page 2 of 4
11 - 20 of 36 posts

January 3, 2018
World's eyes on Indonesia as Political Prisoner Yanto Awerkion is tried for Treason Over Support For West Papua Independence Petition – 9th January 2018 Video of Yanko Version 1 (with subtitles) www.x Version 2 (without subtitles) www.x LONDON – The world's eyes are on Indonesia on 9th January 2018 as…

December 16, 2017
It brings us great sadness to report the brutal murder of yet another young West Papuan activist by the Indonesian police. Mekky Hisage died on Friday 15th December, from critical injuries sustained from Indonesian police torture.

December 16, 2017
This year, people across West Papua held demonstrations across the country calling for their fundamental human rights, including their right to self-determination. Meanwhile, a 16 year old West Papuan boy was shot by suspected members of the Indonesian Special Forces.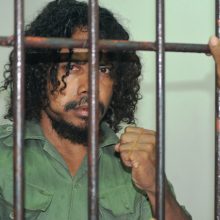 December 15, 2017
As the year draws to a close, we would like to give an update on the situation around West Papuan political prisoner Yanto Awerkion who was arrested on 30th May 2017, simply for speaking at an event supporting the historic West Papuan People's Petition which in total was signed by…

November 24, 2017
This article was originally published on the Asia Pacific Report and can be read here The Asian Human Rights Commission (AHRC) has condemned a brutal attack against journalist Saldi Hermanto in Timika, Papua, and called for a campaign of letter protests. Journalist Saldi Hermanto … attacked…

November 23, 2017
We have received reports that on 19th November, West Papuan man named Izak was brutally tortured by the Indonesian military and thrown into a police cell where he soon died from his injuries. 

November 2, 2017
We have received shocking and heartbreaking news from West Papua that on 30th October, West Papuan school student Oktovianus Beteop died after being brutally tortured by the Indonesian military and police.

October 24, 2017
Following the brutal torture of West Papuan student Yunus Wanaruni by the Indonesian police, the Asian Human Rights Commission (AHRC) has created an urgent action appeal in calling for justice.  TAKE ACTION HERE  You can read the full report and action below: Dear Friends, The Asian Human Rights…

October 24, 2017
The photo and much of the info in this article come from Radio New Zealand.  In the last few days, news has filtered out of West Papua that the Indonesian militry and police have nce again been engaging in "Sweeping Operations" around the area of the Grasberg Mine, operated by…

October 19, 2017
Research by the Papuan Women's Working Group together with the Asia Justice Rights (AJAR) has revealed shocking levels of Indonesian state violence being committed towards West Papuan women.