West Papuan school student dies in prison after being tortured by the Indonesian military and police
November 2, 2017
We have received shocking and heartbreaking news from West Papua that on 30th October, West Papuan school student Oktovianus Beteop died after being brutally tortured by the Indonesian military and systematically ill-treated by the Indonesian police since May.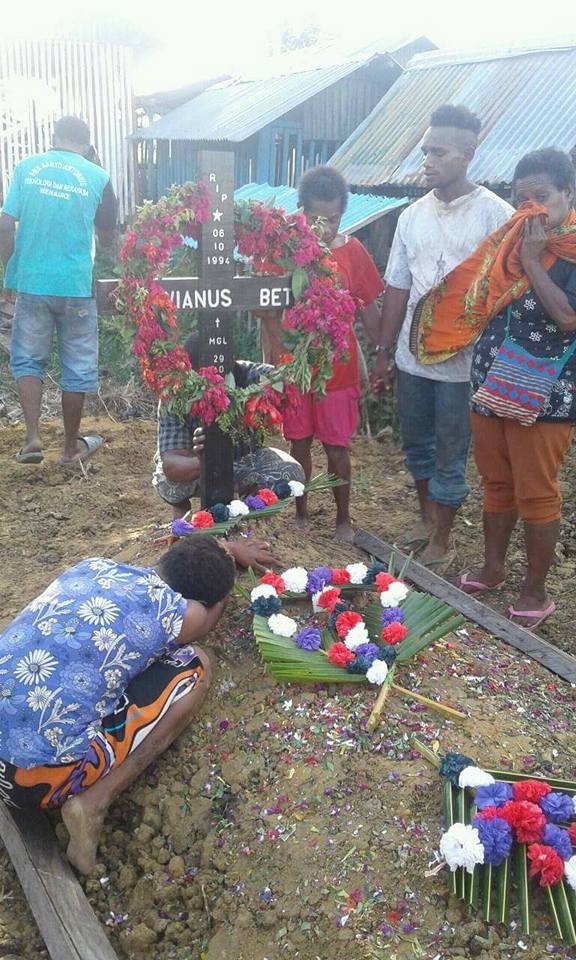 According to reports, following a dispute, Oktovianus was initially beaten by the Indonesian military on 2nd May, 2017 on the "Trans Papua Road" in Boven Digoel, West Papua. He was beaten until his ribs were broken and instead of being taken to the hospital, he was instead taken to a Boven Digoel police station cell. Oktovianus suffered intense pain in the cell and began vomiting blood. Several members of the Indonesian military reportedly also came into the cell and continued to persecute him.
After Oktovianus was transferred to the Digoel Prosecutor's Office, the local Attorney General suggested that his case could be resolved through traditional compensation but the Indonesian military insisted that Oktovianus be prosecuted and go to jail.
Finally the victim who was severely ill, was forcibly taken to Merauke and to await trial by the local Merauke Prosecutor. On the way from  Boven Digoel to Merauke, a Tribun-Arafura.com source said that there was a police officer who intimidated the Oktovianus and insisted that when the trial took place in Merauke, he did not claim to be ill.
After arriving in Merauke, Oktovianus was detained for 2 months in a sick condition in a Merauke police station cell and was then convicted and sentenced to 2 years and 5 months in jail.
He was taken to the LP Klas II B Merauke. As his health condition continued to worsen, he finally breathed his last on Tuesday (30th, October 2017) at around 05:00 (West Papua time). Oktovianus Beteop was buried in the Merauke Leproseri Cemetery on the same day at around 16.00 (West Papua time).
The death of Oktovianus Beteop is yet another shocking example of the systematic and widespread human rights violations being committed towards the people of West Papua on a daily basis. Such police and military brutality go hand in hand with the rampant institutional racism towards West Papuans in their own country.
We fully condemn this brutal human rights violation and call for justice following the hideous torture and death of yet another West Papuan school student.