News Stories
Category: Solidarity
Page 1 of 2
1 - 10 of 15 posts

November 16, 2020
On the 59th anniversary of the first raising of West Papua's symbol of independence, the Morning Star Flag, we invite you to take part in this year's Global Flag Raising action to show your solidarity for West Papua's freedom and right to self-determination. To help show the growing worldwide support for West Papua, each year we ask supporters […]

November 29, 2018
On the 57th anniversary of the first raising of West Papua's Morning Star Flag, we invite you to take part in this year's Global Flag Raising Day this Saturday December 1st. Show your solidarity for West Papua's freedom and right to self-determination. To show the growing worldwide support for West…

November 4, 2018
On December 1st, 2018 the newly formed Manchester (MCR) Punks For West Papua chapter will officially launch in the U.K.. Alphabet Brewing Company is located at 99 N Western St, Manchester M12 6JL, UK Show starts at In the Summer of 2019 Manchester Punks for West Papua will attempt…

November 1, 2018
On this 57th anniversary of the first raising of West Papua's symbol of independence, the Morning Star Flag, we invite you to take part in this year's Global Flag Raising action to show your solidarity for West Papua's freedom and right to self-determination. Each year we ask supporters to send…

October 9, 2018
The third quarter of 2018 was characterized by a considerable increase in political arrests resulting from police action during the dispersal of various peaceful demonstrations.

August 29, 2018
Last year international human rights attorney Melinda Janki said "It is not a question of if but when West Papuans will be granted a genuine act of self-determination." On the long road to independence the diplomatic efforts of the United Liberation Movement for West Papua (ULMWP) has positioned them to

August 21, 2018
The United Liberation Movement for West Papua (ULMWP) Spokesperson Jacob Rumbiak released a statement and video showing hundreds of students at Cenderawasih University in West Papua refusing to register for school unless their Melanesian identity was recognized. In a show of solidarity, both Indonesian and Melanesian students banned together

March 14, 2018
Could YOU use your talents or do something you've never done to raise support for West Papua? Could YOU take the #FreeWestPapuaChallenge?  Over the years, around the world people have undertaken incredible and inspiring acts of solidarity with West Papua, by themselves and in groups, to raise much-needed awareness and…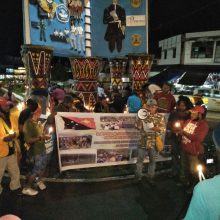 March 13, 2018
Following the terrible earthquake which has resulted in the deaths of at least 100 people in Papua New Guinea and let hundreds of thousands of others affected, the people of West Papua have set up their own PNG Earthquake Appeal, in solidarity with their fellow Melanesians on the other side…

March 9, 2018
On Sunday 4th March, the Rockin' for West Papua peace concert was held at the Dublin Castle in Camden, which saw some awesome acts all coming together to raise awareness and money for the Free West Papua Campaign.
Page 1 of 2
1 - 10 of 15 posts