News Stories
Category: Arrests
Page 1 of 4
1 - 10 of 32 posts

April 8, 2018
Today in West Papua, 5 students were arrested by the Indonesian police, simply for conducting fundraising activities for the people of Papua New Guinea, following the devastating earthquake which struck in February. According to West Papuan media outlet Suara Papua; Yefri Tabuni, Alber Yatipai, Basten Takege, Barata Pekey and Steven…

April 5, 2018
The following article comes from The Guardian and was originally published here. Indonesian forces detain dozens at West Papua university More than 40 people taken into custody at the University of Cenderawasih in Jayapura Photo: KNPB. Dozens of students and activists have been detained by Indonesian…

March 27, 2018
The following article comes from Benar News and was written by West Papuan journalist Victor Mambor. It was originally published here.  Teen's Death Underscores Impunity in West Papua, Activists Say High school student Riko Ayomi was already dying when police brought him home in Sorong, a city on the western…

March 12, 2018
After 8 months in jail and 15 appearances in court, West Papuan political prisoner Yanto Awerkion's trial verdict is finally set to take place tomorrow and under Indonesian law he could be given 15 year jail sentence for "treason".

January 10, 2018
We have received urgent reports from the West Papua National Committee (KNPB) that on 7th January at 09:13 (West Papua time), 14 activists were arrested by the Indonesian military and police.

January 10, 2018
Yesterday West Papuan political prisoner Yanto Awerkion was in court facing charges of "treason" after helping to support the West Papuan People's Petition. After months of postponing the trial following a lack of witnesses, the judge himself did not show up and so the trial has been postponed until Thursday…

January 3, 2018
World's eyes on Indonesia as Political Prisoner Yanto Awerkion is tried for Treason Over Support For West Papua Independence Petition – 9th January 2018 Video of Yanko Version 1 (with subtitles) www.x Version 2 (without subtitles) www.x LONDON – The world's eyes are on Indonesia on 9th January 2018 as…

December 16, 2017
It brings us great sadness to report the brutal murder of yet another young West Papuan activist by the Indonesian police. Mekky Hisage died on Friday 15th December, from critical injuries sustained from Indonesian police torture.

December 16, 2017
This year, people across West Papua held demonstrations across the country calling for their fundamental human rights, including their right to self-determination. Meanwhile, a 16 year old West Papuan boy was shot by suspected members of the Indonesian Special Forces.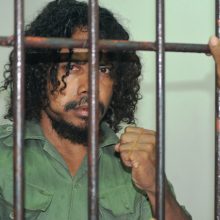 December 15, 2017
As the year draws to a close, we would like to give an update on the situation around West Papuan political prisoner Yanto Awerkion who was arrested on 30th May 2017, simply for speaking at an event supporting the historic West Papuan People's Petition which in total was signed by…