News
Page 1 of 38
1 - 10 of 377 posts

April 21, 2017
Dear friends of West Papua, We are inviting YOU to join in solidarity with the people of West Papua as we create a global alert for West Papua from May 1st to May 3rd. 1st May will mark exactly 54 years to the day that Indonesia first occupied West Papua.

May 26, 2017
This statement has been written by West Papuan Independence leader Benny Wenda after Indonesian police officers brutally tortured Nareki Kogoya from the Human Rights Commission.  It brings more sadness for the people of West Papua to learn that another innocent West Papuan person has been brutally tortured by the…

May 24, 2017
Massacre of 5 people in 24 hours – Under Indonesia, West Papua is becoming another East Timor This statement has been written by ULMWP Spokesperson Benny Wenda following the killings of West Papuan people in Port Numbay/Jayapura this week. For media inquires, please contact: +447411 053953 E-mail: [email protected] Today the…

May 13, 2017
West Papua's most famous ex-political prisoner, Filep Karma who was sentenced to 15 years in jail just for raising the West Papuan flag, has visited the Netherlands where alongside Free West Papua Campaign – Netherlands he has been raising awareness and support for West Papua's freedom and self-determination. …

May 11, 2017
We have received urgent news from West Papua that two men in Dokib village in the Tuband District of Merauke were arrested by the Indonesian military and police. The West Papua National Committee (KNPB) reports that Saverius Mokai Gebse and Reimundus Ndiken were both arrested on 5th May 2017 for…

May 11, 2017
As part of his visit to Aoteaora New Zealand, on 10th May West Papuan Independence Leader Benny Wenda attended an historic meeting of the International Parliamentarians for West Papua (IPWP). At the New Zealand Parliament (Pāremata Aotearoa) in Wellington, the IPWP launched the Westminster Declaration for an Internationally Supervised Vote…

May 8, 2017
On 4th May, legendary Pacific artist J BOOG met with friends and family members of West Papuan Independence Leader Benny Wenda, in Oxford United Kingdom. A world famous musician of Samoan origin, J BOOG has inspired the people of West Papua and people across the Pacific with his promotion of…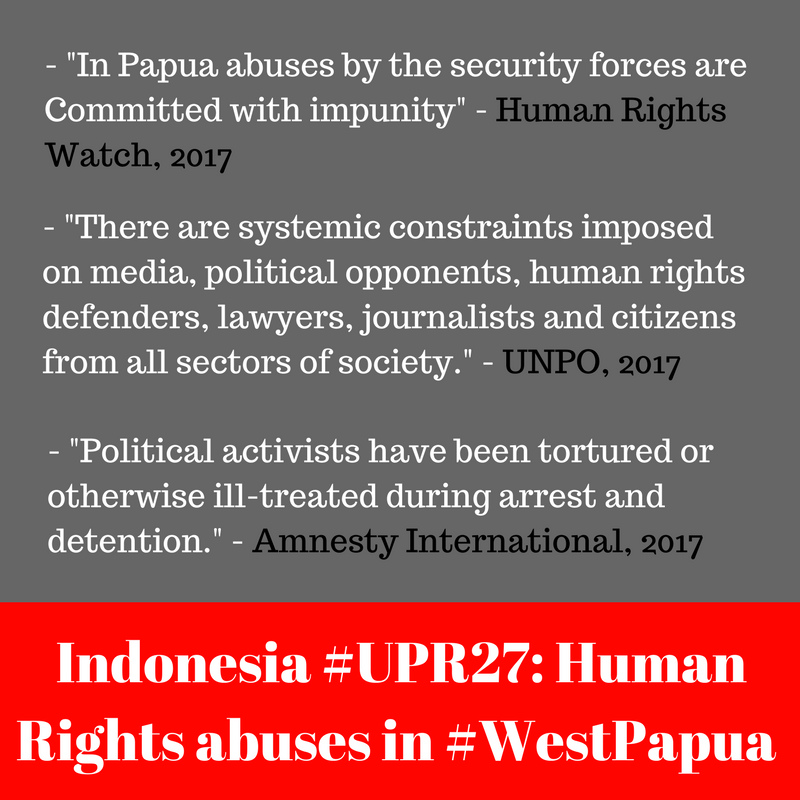 May 3, 2017
Indonesia was subjected to international scrutiny of its human rights record during the UN's Universal Periodic Review today. Dozens of international NGOs submitted briefings detailing a litany of abuse by Indonesia in the Papua provinces, before 90 countries asked questions and offered recommendations to Indonesia regarding its human rights record.…

May 1, 2017
We have just received urgent news from West Papua that 200 Papuans have been arrested and 26 tortured by Indonesian police, one day before Indonesia hosts the World Press Freedom Day in Jakarta.

April 30, 2017
In a recent interview for the New Internationalist magazine in their fantastic new issue all about West Papua, Benny Wenda spoke out about the reality of press freedom in West Papua

April 29, 2017
We have just received an urgent report from West Papua that today at 03:50, local time, the Indonesian police came to the West Papua National Committee [KNPB] secretariat in Sentani and destroyed the stage building they had set up for a rally. Photos sent to us today show the Indonesian…