News Stories
Category: ULMWP
Page 1 of 8
1 - 10 of 73 posts

November 16, 2020
On the 59th anniversary of the first raising of West Papua's symbol of independence, the Morning Star Flag, we invite you to take part in this year's Global Flag Raising action to show your solidarity for West Papua's freedom and right to self-determination. To help show the growing worldwide support for West Papua, each year we ask supporters […]

September 5, 2018
Papua New Guinean heavyweight champions and founders of the Wan Papua Warriors rugby team Tala and Tomasi Kami have released video statements calling for Pacific leaders to keep the issue of West Papua at the forefront of discussions during the Pacific Islands Forum being held on Nauru this week. As…

September 4, 2018
BREAKING NEWS FROM OCCUPIED WEST PAPUA – Arrests took place on 4th September as people around the country gathered to hold peaceful rallies to support the ULMWP at the Pacific Islands Forum (PIF) meeting, which is currently underway on Nauru.

August 29, 2018
Last year international human rights attorney Melinda Janki said "It is not a question of if but when West Papuans will be granted a genuine act of self-determination." On the long road to independence the diplomatic efforts of the United Liberation Movement for West Papua (ULMWP) has positioned them to

August 28, 2018
Press Release – For Immediate Release: 26 August, 2017 Contact: Spokesperson Raki Ap Free West Papua Campaign: [email protected] West Papuan people rally to call upon Pacific (PIF) leaders to support self-determination at the United Nations. Growing solidarity across the Pacific set to mobilise to show support for West Papuan self-determination.…

August 21, 2018
The United Liberation Movement for West Papua (ULMWP) Spokesperson Jacob Rumbiak released a statement and video showing hundreds of students at Cenderawasih University in West Papua refusing to register for school unless their Melanesian identity was recognized. In a show of solidarity, both Indonesian and Melanesian students banned together

April 2, 2018
The following article was written by Benny Wenda, Chairman of The United Liberation Movement for West Papua (ULMWP), following the release of West Papuan political prisoner Yanto Awerkion. The article was originally published here.  As the world celebrates Easter Sunday, in West Papua we are also celebrating the long-awaited release…

March 14, 2018
Could YOU use your talents or do something you've never done to raise support for West Papua? Could YOU take the #FreeWestPapuaChallenge?  Over the years, around the world people have undertaken incredible and inspiring acts of solidarity with West Papua, by themselves and in groups, to raise much-needed awareness and…

March 1, 2018
Following the terrible earthquake in Papua New Guinea, this statement was written by Benny Wenda, the Chairman of the United Liberation Movement for West Papua (ULMWP) and was originally published on the ULMWP website.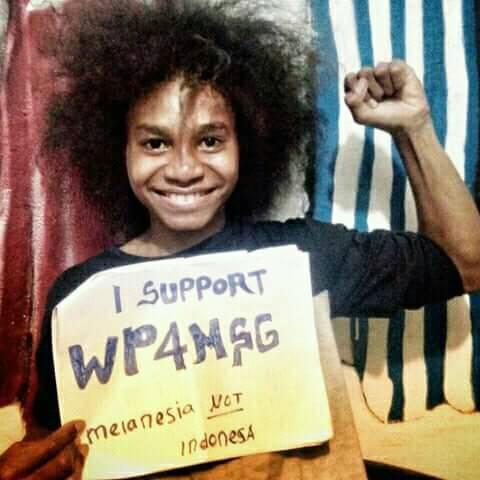 February 18, 2018
Weare delighted to announce that after months of hard campaigning from all over West Papua, across Melanesia and around the world; West Papua, represented by The United Liberation movement for West Papua (ULMWP), has fulfilled the prerequisites for full membership of the key sub-regional organisation, the Melanesian Spearhead Group. The