News Stories
Category: Internationally Supervised Vote
Page 1 of 2
1 - 10 of 15 posts

February 6, 2018
Yanto Awerkion, one of West Papua's most prominent political prisoners has recorded a new video message today in secret, calling upon the leaders of the Melanesian Spearhead Group (MSG) to welcome West Papua back as a full MSG member at its leaders summit next week. Yanto's trial has now…

January 30, 2018
On 26th January, the Malaysian Socialist Party submitted a memorandum to a United Nations representative in Kuala Lumpur, calling on the UN to support West Papuan self-determination and to recognize the historic West Papuan People's Petition, signed by over 1.8 million people. The memorandum was endorsed by a total of…

January 10, 2018
Yesterday West Papuan political prisoner Yanto Awerkion was in court facing charges of "treason" after helping to support the West Papuan People's Petition. After months of postponing the trial following a lack of witnesses, the judge himself did not show up and so the trial has been postponed until Thursday…

January 3, 2018
World's eyes on Indonesia as Political Prisoner Yanto Awerkion is tried for Treason Over Support For West Papua Independence Petition – 9th January 2018 Video of Yanko Version 1 (with subtitles) www.x Version 2 (without subtitles) www.x LONDON – The world's eyes are on Indonesia on 9th January 2018 as…

December 19, 2017
Today, an unprecedented wave of solidarity from people across Indonesia took place for West Papua's freedom as the West Papuan Student's Alliance (AMP), together with the Indonesian People's Front for West Papua (FRI-West Papua), held rallies in 14 Indonesian cities.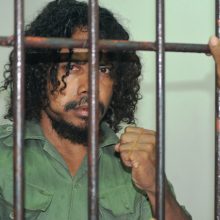 December 15, 2017
As the year draws to a close, we would like to give an update on the situation around West Papuan political prisoner Yanto Awerkion who was arrested on 30th May 2017, simply for speaking at an event supporting the historic West Papuan People's Petition which in total was signed by…

November 25, 2017
We are delighted to report that the new Prime Minister of Solomon Islands, H.E. Mr. Rick Hou, is following in the footsteps of former PM H.E. Mr. Manasseh Sogavare in supporting West Papua. Thank you Prime Minister! Tagio tumas! After meeting with Octovianus Mote from the United Liberation Movement for…

November 16, 2017
On 12th November, Vanuatu Prime Minister H.E. Mr. Charlot Salwai met with His Holiness Pope Francis at the Vatican and took the opportunity to raise the plight of the people of West Papua. 

November 10, 2017
On 8th November, Sydney Criminal Lawyers interviewed West Papuan Independence Leader Benny Wenda on the story, success and significance of the West Papuan People's Petition, which he presented to the United Nations in September, containing the signatures of over 1.8 million West Papuan people.

October 23, 2017
On 19th October in the Australian Senate, Leader of the Green Party, Senator Richard Di Natale put forward a motion in support of West Papuan self-determination, following the historic West Papuan People's Petition signed by over 1.8 million people being submitted to the Untied Natio
Page 1 of 2
1 - 10 of 15 posts