News Stories
Category: Appeal
Page 1 of 2
1 - 10 of 14 posts

January 22, 2019
Over the past month, thousands of indigenous West Papuans have been displaced after fleeing air strikes, hiding in the highland jungle without food, water, or access to health-care or shelter. According to recent local reports a mother, and her child and three other children have died due to starvation. The Indonesian army has sealed off […]

November 29, 2018
Urgent alert WATCH WEST PAPUA THIS DECEMBER 1st. West Papuans across the country and students studying in Indonesia are facing brutality or arrest for wanting to peacefully come together to commemorate December 1st . Many prayer gatherings have been organised across the country to remember the 57th anniversary of when…

October 16, 2018
Musicians, DJs, spoken word and visual artists all around the world are gathering once again to participate in the annual Rockin for West Papua peace concerts, 2018.

October 9, 2018
The third quarter of 2018 was characterized by a considerable increase in political arrests resulting from police action during the dispersal of various peaceful demonstrations.

September 5, 2018
Papua New Guinean heavyweight champions and founders of the Wan Papua Warriors rugby team Tala and Tomasi Kami have released video statements calling for Pacific leaders to keep the issue of West Papua at the forefront of discussions during the Pacific Islands Forum being held on Nauru this week. As…

April 8, 2018
Today in West Papua, 5 students were arrested by the Indonesian police, simply for conducting fundraising activities for the people of Papua New Guinea, following the devastating earthquake which struck in February. According to West Papuan media outlet Suara Papua; Yefri Tabuni, Alber Yatipai, Basten Takege, Barata Pekey and Steven…

March 14, 2018
Could YOU use your talents or do something you've never done to raise support for West Papua? Could YOU take the #FreeWestPapuaChallenge?  Over the years, around the world people have undertaken incredible and inspiring acts of solidarity with West Papua, by themselves and in groups, to raise much-needed awareness and…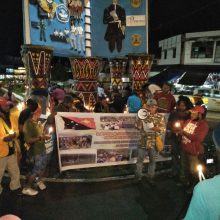 March 13, 2018
Following the terrible earthquake which has resulted in the deaths of at least 100 people in Papua New Guinea and let hundreds of thousands of others affected, the people of West Papua have set up their own PNG Earthquake Appeal, in solidarity with their fellow Melanesians on the other side…

March 1, 2018
Following the terrible earthquake in Papua New Guinea, this statement was written by Benny Wenda, the Chairman of the United Liberation Movement for West Papua (ULMWP) and was originally published on the ULMWP website. 

February 28, 2018
Show your solidarity for West Papua by coming to the Rockin' for West Papua Peace Concert, an important fundraising gig raising awareness and support for West Papua's freedom through the power of music.
Page 1 of 2
1 - 10 of 14 posts