16 West Papuan people arrested because of raising funds for PNG earthquake appeal
April 8, 2018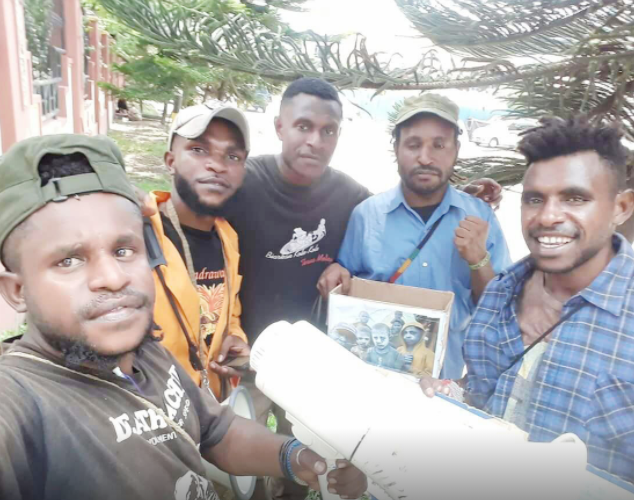 On 5th April in West Papua, 5 students were arrested by the Indonesian police, simply for conducting fundraising activities for the people of Papua New Guinea, following the devastating earthquake which struck in February.
According to West Papuan media outlet Suara Papua; Yefri Tabuni (23), Alber Yatipai (23), Basten Takege (21), Barata Pekey (23) and Steven Gobai (22) were all arrested in Port Numbay (Jayapura) and were held from 12:14 to 13:30 at the Abepura police station. Their donation boxes, each containing thousands of Rupiah were confiscated and have not been returned.
Kris Dogopia from the group West Papua Solidarity for Earthquake Disaster, told Radio New Zealand,
"They take our money… the policemen take it. Today I and my friend, we will go to the policemen's office to ask them our money, where they take it."
There have also been reports that on 7th April, 11 more West Papuan people were arrested for collecting PNG earthquake appeal funds. Similarly, their donation boxes have also not been returned.
Background
On 1st March, Benny Wenda, the Chairman of the United Liberation Movement for West Papua (ULMWP), launched an appeal calling on West Papuan people to raise funds to help PNG earthquake relief efforts.  You can find out how to donate to this appeal here. 
You can watch a video of West Papuans fundraising for the PNG earthquake below
West Papuans fundraising for PNG earthquake

On Monday 12th March, the people of West Papua began fundraising for the victims of the Papua New Guinea earthquake and the disaster relief effort. This was organised by The United Liberation Movement for West Papua – ULMWP. A 100 candlelit vigil was held in the capital city Port Numbay (Jayapura) and people gathered to raise funds and donations following the devastating earthquake. Please do donate generously here to the ULMWP's PNG Earthquake Appeal fund, the Bank Details of which can be found below: SWIFT Code: BOSPPGPMBSB Number: 088943 ,Account Name: Peter Yossi KovempaAcc No :007008699618BSP Bank, Boroko Branch Port Moresby ULMWP Chairman Benny Wenda who initiated the effort stated, "All proceeds will go directly to the people of Papua New Guinea in their earthquake relief effort. The people of Papua New Guinea have consistently stood by their brothers and sisters in West Papua during our suffering and struggle for self-determination. It is only right that we stand by them in their time of need too, and we urge people around the world to do the same. Thank you very much."

Posted by Free West Papua Campaign on Tuesday, 13 March 2018
The fact that the Indonesian government is allowing the arrest of West Papuan people just for fundraising for Papua New Guinea, and even confiscating the donations raised show once again that it is in no way serious about its involvement in the Melanesian Spearhead Group, an organisation aimed at promoting Melanesian solidarity.
For West Papuans, it also brings back painful memories of very similar events in 2015 when the Indonesian authorities arrested at shot West Papuan people and even killed someone, then confiscated donation money, simply for fundraising for Cyclone Relief in Vanuatu.