News Stories
Category: Action
Page 2 of 3
11 - 20 of 27 posts

January 30, 2018
Today 29th January, people gathered in Canberra outside the office of Julie Bishop, the Foreign Minister of Australia to demand that she urgently address and take action over the health crisis in West Papua which has claimed the lives of over 100 West Papuan children.

January 19, 2018
GET YOUR TICKETS HERE Launching our first big music event for 2018, Rockin' For West Papua comes to London's "The Dublin Castle". Show your solidarity for West Papua by coming to the Rockin' for West Papua Peace Concert, an important fundraising gig raising awareness and support for West Papua.

January 18, 2018
The Free West Papua Campaign is very happy to announce the winner of this year's 1st December Flag Raising award!

January 3, 2018
World's eyes on Indonesia as Political Prisoner Yanto Awerkion is tried for Treason Over Support For West Papua Independence Petition – 9th January 2018 Video of Yanko Version 1 (with subtitles) www.x Version 2 (without subtitles) www.x LONDON – The world's eyes are on Indonesia on 9th January 2018 as…

December 19, 2017
Today, an unprecedented wave of solidarity from people across Indonesia took place for West Papua's freedom as the West Papuan Student's Alliance (AMP), together with the Indonesian People's Front for West Papua (FRI-West Papua), held rallies in 14 Indonesian cities.

December 16, 2017
It brings us great sadness to report the brutal murder of yet another young West Papuan activist by the Indonesian police. Mekky Hisage died on Friday 15th December, from critical injuries sustained from Indonesian police torture.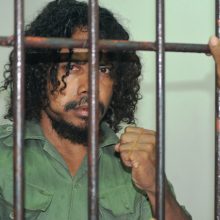 December 15, 2017
As the year draws to a close, we would like to give an update on the situation around West Papuan political prisoner Yanto Awerkion who was arrested on 30th May 2017, simply for speaking at an event supporting the historic West Papuan People's Petition which in total was signed by…

November 28, 2017
Calling on ALL supporters to join the Global Flag Raising for West Papua! We are inviting you to join us to take part in what we hope to be the biggest Global day of action for West Papua so far. Each year we ask supporters to take photos of themselves

October 24, 2017
Following the brutal torture of West Papuan student Yunus Wanaruni by the Indonesian police, the Asian Human Rights Commission (AHRC) has created an urgent action appeal in calling for justice.  TAKE ACTION HERE  You can read the full report and action below: Dear Friends, The Asian Human Rights…

October 23, 2017
On 19th October in the Australian Senate, Leader of the Green Party, Senator Richard Di Natale put forward a motion in support of West Papuan self-determination, following the historic West Papuan People's Petition signed by over 1.8 million people being submitted to the Untied Natio