Rockin' for West Papua peace concert held in London
March 9, 2018
On Sunday 4th March, the Rockin' for West Papua peace concert was held at the Dublin Castle in Camden, which saw some awesome acts all coming together to raise awareness and money for the Free West Papua Campaign.
The night opened with a fantastic performance from PNG/UK sisters Xylaroo and their beautiful selection of acoustic tracks and moving words about their Melanesian homeland.
London local bands Useless Cities, and Emma and the Fragments did a great set with their distinctive indie and britpop rhythms. 
Award winning hip hop artist Carpetface also wowed the audience at all times with his passionate heartfelt rap. It was brilliant, and each performance was filmed to send back to the people of West Papua to show them that in the UK musicians too are starting to speak out for West Papua.
Rockin' For West Papua is an international series of events where artists and individuals use music  to raise awareness of the genocide and human rights abuses of the indigenous people of West Papua. Last year saw 150 bands play across 30 cities in 5 countries all for West Papua, and 2018 is going to be the biggest event yet. Our next date is October so if you want to get involved, please email us! office@freewestpapua.org 
Indonesia bans foreign media and human rights groups from operating in West Papua, meaning the international community and governments know nothing, and do nothing.
All musicians and artists are part of this growing international movement are using their voices to help the West Papuan people fight for their lives & land against a brutal Indonesian occupation which has so far claimed 500,000 lives. #MusicIsAWeapon and through music we can shine a light and put an end to this genocide once and for all.
Thank you to all the artists involved in London and around the world who are making some noise for West Papua.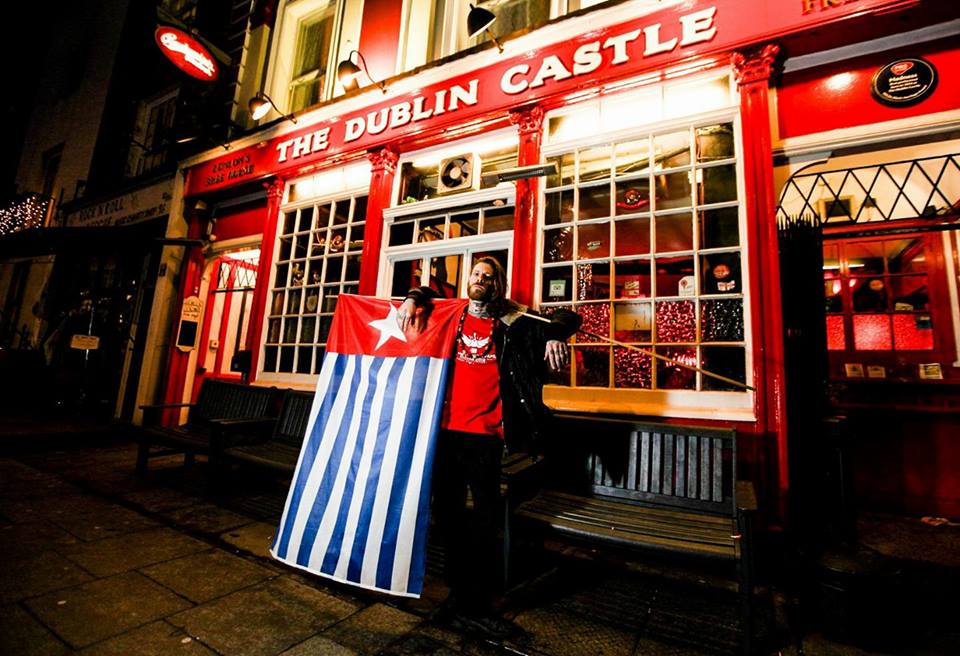 Carpetface with the West Papuan flag and a Rockin' for West Papua tee outside The Dublin Castle venue!
A message of thanks
A message from West Papuan Independence Leader Benny Wenda.
'I always say that music is a weapon and that every song contains a human spirit. Music is more powerful than any gun the Indonesian military has and has the power to rock people's minds and change people's hearts. Music is more than a pastime for the people of West Papua, it is a way of life and a way to express our inner hearts and spread the message of our freedom struggle'.
'We fully appreciate all your heartfelt support and compassion for us and for our cause. The people of West Papua urgently need your help and support, when so few people in the world know about our plight. You are all the messengers of the people of West Papua and with your support, we feel ever closer to our destination on the long road to freedom.'
We'd like to echo the thanks of Benny Wenda and send our full gratitude to all the artists and everyone who helped in organising, as well as everyone else who came to the gig! Your presence means so much to the people of West Papua who feel they have been silenced in their own lands but feel empowered when they see people standing up for their rights and freedom struggle across the world.
T-Shirts
The Rockin' for West Papua gig was also a great opportunity for us to launch a new set of Rockin' for West Papua T-Shirts through our online international store. Available in Blue and Red, the T-Shirts are high quality organic, fair-trade, 100% cotton t-shirts, screen printed by hand using eco-friendly inks by the brilliant I Dress Myself.
We deliver worldwide and accept all currencies with all proceeds going directly to this Campaign for a Free and Independent West Papua. Show your solidarity with West Papua's freedom by ordering your own Rockin' for West Papua tee today!
Rockin' for West Papua – October 2018!
We hope that the wonderful bands who performed on Sunday, and others around the world will stand in solidarity with West Papua again this October when we hold our third Global Peace Concert of Rockin' for West Papua. Last year there were over 150 bands playing in 27 concerts in 5 countries around the world and this year we hope for an even bigger event!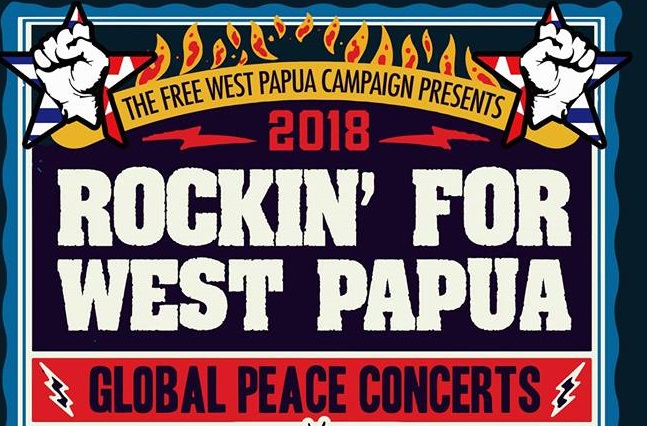 You can find out more about Rockin' for West Papua in October here, and please do follow the Facebook Page for updates. For more information about how musicians can help support West Papua in general, please check out the fantastic Rize of the Morning Star collective.
Once again, full thanks and respect to all artists and everyone who came to this wonderful event, we look forward to seeing you again as we continue to rock the world for West Papua's freedom!
#MUSICISAWEAPON
If you would like to find out more please go to www.freewestpapua.org, & join the campaign on face book & twitter.
If you would like to get involved with Rockin for West Papua Global Peace concert in October get in touch with Ash@Freewestpapua.org and Kate@Freewestpapua.org.
PAPUA MERDEKA