News
Page 25 of 63
241 - 250 of 625 posts

July 25, 2017
We're delighted to share with you this great shout out for West Papua from Tevita Pangai Jnr, who plays for Australian Rugby League team the Brisbane Broncos!

July 18, 2017
On a tropical island in the South Pacific, tens of thousands of people are gathering to write down their names and details. In secret locations, they are meeting at beaches and in the jungle to hold banners showing their support for a group of swimmers in Geneva. They appeal to…

July 8, 2017
We have received urgent reports from West Papua that between 30th June and 6th July, over 130 West Papuan people were arrested and many of them tortured, by the Indonesian police for peaceful actions.

July 5, 2017
On Sunday, 2nd July the West Papuan Community of Oxford, UK raised significant awareness and support for West Papua at the renowned Cowley Road Carnival which was attended by tens of thousands of people! The voice of the West Papuan people was well and truly heard in Oxford and the…

July 5, 2017
Massive respect and thanks to world renowned artist Akala for giving this incredible shout out for a Free West Papua at the Kelburn Garden Party in Scotland! https://www.facebook.com/freewestpapua/videos/10159003776780010/ "Big up our comrades in West Papua, people like Benny Wenda and all the rest of them, please look up the Free…

June 29, 2017
Following the recent UK general election, we need your help in pressuring the new batch of MPs to take up the West Papuan cause. As parliament is re-forming, we need to restart the All-Party Parliamentary Group (APPG) on West Papua, and need cross-party support to make it happen. Here, we…

June 23, 2017
This statement, written by West Papuan Independence Leader Benny Wenda was originally published on his website on 30th May 2017.  Today the people of West Papua once again experienced more state terror and brutality from the Indonesian military and police. As the local headquarters of the West Papua National Committee…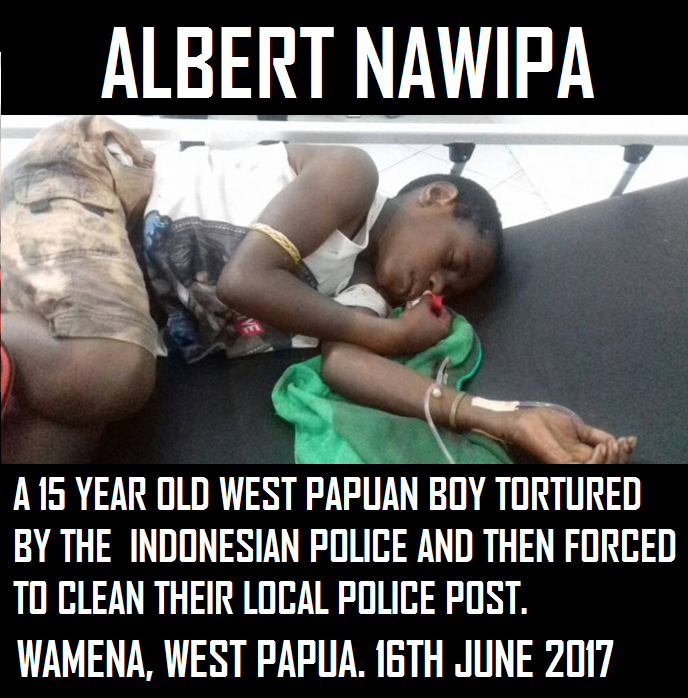 June 23, 2017
URGENT NEWS – WEST PAPUAN BOY TORTURED BY THE INDONESIAN POLICE We have received urgent reports from West Papua that on 16th June 2017, Albert Nawipa, a 15 year old West Papuan boy was brutally tortured by the Indonesian police in Wamena. After being brutally tortured, Albert was then reportedly…

May 26, 2017
This statement has been written by West Papuan Independence leader Benny Wenda after Indonesian police officers brutally tortured Nareki Kogoya from the Human Rights Commission.  It brings more sadness for the people of West Papua to learn that another innocent West Papuan person has been brutally tortured by the…

May 24, 2017
Massacre of 5 people in 24 hours – Under Indonesia, West Papua is becoming another East Timor This statement has been written by ULMWP Spokesperson Benny Wenda following the killings of West Papuan people in Port Numbay/Jayapura this week. For media inquires, please contact: +447411 053953 E-mail: [email protected]  Today the…