Yanto Awerkion sentenced to 10 months in jail
March 13, 2018
Press release
After 17 court appearances and more than 9 months in jail, yesterday West Papuan political prisoner Yanto Awerkion was finally sentenced to 10 months in jail with time served. He's due to be released by the end of the month. While he was charged with "treason" there was no sufficient evidence against him and so in the end he was found guilty of "incitement". 
Yesterday the West Papua National Committee (KNPB) in Timika, of which Yanto is the Deputy Chairman, stated, "We convey our thanks to everyone internationally and nationally, especially to the people of West Papua, for all their moral and material support in the legal process of Yanto Awerkion".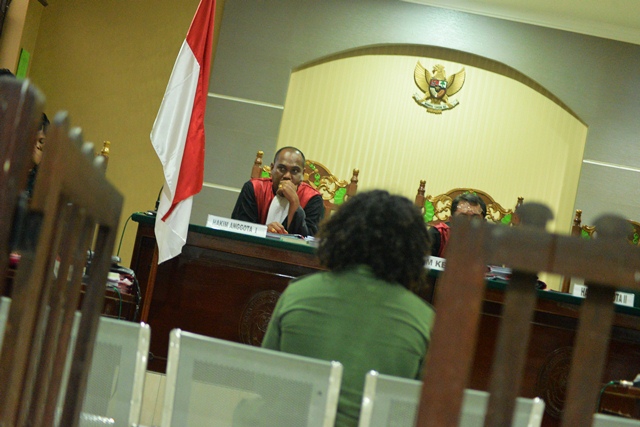 Background
Yanto was arrested on 30th May 2017, for speaking at a gathering in the town of Timika where he announced to the people the incredible number of signatures collected in the West Papuan People's Petition, signed by over 1.8 million West Papuans, representing over 70% the indigenous population.
After being denied adequate food and kept in poor conditions, the 27 year old's health condition deteriorated and he was kept behind bars for 6 months until his first trial on 14th November. He was charged with "treason" and threatened with a possible 15 year jail sentence just for helping to organise the historic West Papuan People's Petition, despite it being internationally branded by the Indonesian government as a "hoax".
In the 9 months Yanto has been detained he went to court more 17 times and constantly had his trials postponed or cancelled due to a lack of witnesses, or a lack of evidence. Once it was postponed because the judge did not turn up. 
International solidarity #FreeYanto
A movement, launched by the Free West Papua Campaign to get him released saw widespread public support from around the world and received several prominent international supporters; including the leader of the Australian Greens, Senator Richard Di Natale, the author George Monbiot and Aotearoa New Zealand Former Green MP Catherine Delahunty. Further pressure on the Indonesian government and support for his release came from notable organisations, including International Lawyers for West Papua, Sydney Criminal Lawyers, TAPOL and Avaaz who initially hosted an online international version of the West Papuan petition.
Meanwhile people around the world, mobilised by the Free West Papua Campaign began phoning the judge, police and Indonesian State prosecutor, donating to his legal team and publicly calling for his release.
Last week, the prosecution conceded to only calling for 1 year in jail rather than the threatened 15 years and finally, yesterday on 12th March, the judge sentenced him for 10 months, with time served; with a release date set for 2 weeks.
It is very possible this unnecessary, but comparatively lenient sentence for a West Papuan political prisoner was due the tremendous national and international pressure for Yanto's release.
A message of thanks
Following the tremendous effort by supporters around the world for Yanto's release, we would like to pass on our utmost thanks to all individuals, organisations and everyone who has supported him in his long trial process.
To everyone who generously donated, made phone calls, wrote letters, sent emails and called for his freedom, you all made such a big difference, put pressure on the Indonesian authorities and gave Yanto and his family hope. Together, you have all helped to ensure that Yanto Awerkion can finally be released.
Finally, we would like to pay our deepest respects to Yanto himself. His incredible endurance, spirit and undying resolve to continuing calling for West Papua to be free, even in jail is deeply inspiring to us all and we are glad to know that he will soon be able to see his friends and family without being separated by prison bars.
We will keep in touch to witness his release and to celebrate this important victory together.
For more information about how you can support West Papua, please click on the link below.
If you would like more information, or to inquire about interviews, please get in touch with Kate@freewestpapua.org +447500833706