News Stories
Category: Self-Determination
Page 3 of 13
21 - 30 of 129 posts

January 30, 2018
This article was originally published by the International Coalition for Papua (ICP).   The 'Indonesian Institute of Sciences' (LIPI) in cooperation with 'Change.org' has conducted an internet survey among 27.298 Indonesian citizens about their perceptions regarding West Papua. The majority of participants consisted of Non-Papuans (98%), most of them living outside…

January 30, 2018
Today 29th January, people gathered in Canberra outside the office of Julie Bishop, the Foreign Minister of Australia to demand that she urgently address and take action over the health crisis in West Papua which has claimed the lives of over 100 West Papuan children.

January 24, 2018
The umbrella human rights organisation, the International Coalition for Papua (ICP), which presents evidence to the United Nations, has documented the extra-judicial killings of at least 10 West Papuan people by the Indonesian military and police in 2017 alone. Many others are also believed to have been killed.

January 18, 2018
The Free West Papua Campaign is very happy to announce the winner of this year's 1st December Flag Raising award!

January 12, 2018
'Treason trial' of Independence petitioner Yanto Awerkion adjourned until Tuesday 16th January after prosecution witnesses 'fail to answer questions'  Independence activist facing 15-year jail sentence for supporting a petition Prosecution witnesses were unable to answer questions from the judge On Tuesday 9th January at 16:00 West Papua time, the trial

January 10, 2018
We have received urgent reports from the West Papua National Committee (KNPB) that on 7th January at 09:13 (West Papua time), 14 activists were arrested by the Indonesian military and police.

January 10, 2018
Yesterday West Papuan political prisoner Yanto Awerkion was in court facing charges of "treason" after helping to support the West Papuan People's Petition. After months of postponing the trial following a lack of witnesses, the judge himself did not show up and so the trial has been postponed until Thursday…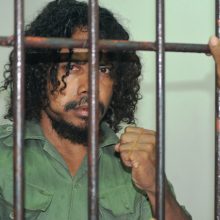 January 10, 2018
Sydney Criminal Lawyers spoke to Free West Papua campaign spokesperson Raki Ap about the conditions that Mr Awerkion is facing, the question around charging an individual with treason over a petition that Indonesian authorities claim is a hoax, and freedom for Yanto and West Papua.

January 7, 2018
On 25th December at approximately 04:00 AM (West Papua time), 19 year old West Papuan youth Nikolausi Bernolpus was shot dead by the Indonesian police in the town of Kepi in the Mappi District. The human rights organisation, the International Coalition for Papua (ICP),…

January 3, 2018
World's eyes on Indonesia as Political Prisoner Yanto Awerkion is tried for Treason Over Support For West Papua Independence Petition – 9th January 2018 Video of Yanko Version 1 (with subtitles) www.x Version 2 (without subtitles) www.x LONDON – The world's eyes are on Indonesia on 9th January 2018 as…