Yanto Awerkion's trial adjourned again after prosecution witnesses 'fail to answer questions' 
January 12, 2018
'Treason trial' of Independence petitioner Yanto Awerkion adjourned until
Tuesday 16

th

 January after prosecution witnesses 'fail to answer questions'

 

Independence activist facing 15-year jail sentence for supporting a petition

Prosecution witnesses were unable to answer questions from the judge
On Tuesday 9th January at 16:00 West Papua time, the trial of prominent West Papuan political prisoner Yanto Awerkion, Deputy Chairperson of the West Papua National Committee (KNPB), continued at the Indonesian State Court in Timika, West Papua.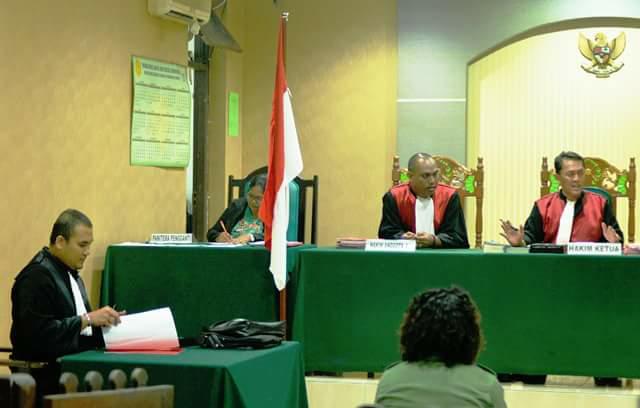 As an independence activist, Yanto Awerkion is being charged with "treason" and faces a possible 15-year jail sentence for speaking in support of the West Papuan People's Petition on 30th May 2017.  He has been left in prison for 8 months so far awaiting his trial. 
Prosecution witnesses at the hearing were unable to answer questions form the judge. 
For that reason, the trial has adjourned until Tuesday the 16th January 2018. 
According to a representative of Papuans Behind Bars: "We are deeply troubled that West Papuans are not only arrested during peaceful protests, but also for leading a prayer at a private property as experienced by Yanto Awerkion. Mr. Awerkion is charged with treason for leading a prayer at his organisation's secretariat, KNPB". 
"The Indonesian government has clearly violated his rights to freedom of religion, freedom of expression, and liberty. The treason law has been again misused to suppress West Papuans' civil and political rights discriminately". 
"We, therefore, demand Awerkion's immediate release and that he would be given compensation from the Indonesian government". 
According to International Human Rights Legal Expert, Melinda Janki (LL.B, BCL (Oxon), LL.M): "The Indonesian government has arrested Yanto Awerkion and charged him with treason. Mr Awerkion has committed no violence. He merely stated that  267,437 people* had signed a petition. Is the Indonesian state so fragile and divided that it cannot bear to hear facts? The petition is an appeal to the UN to respect and implement international law. Why is the Indonesian government so frightened of international law?". 
-ENDS- 
Press Contact Number: +44 (0) 1865 403 202   Email: office@freewestpapua.org 
 
Links 
Papuans Behind Bars team 
http://www.papuansbehindbars.org/  
Background  
Yanto Awerkion was arrested on 30th May when armed Indonesian military, police, special forces and intelligence services raided a compound where the West Papua National Committee (KNPB) were holding a prayer and worship service outside their regional office in Timika. As Deputy Chairperson of the KNPB in Timika (and acting Chairperson for the day); Yanto Awerkion was arrested at 13:30 after taking to the stage and announcing to the crowd that in the greater Bomberai region of West Papua, 267,437 signatures had been collected for the manual petition calling for an internationally supervised vote (a West Papuan independence referendum). The 27-year-old continues to be held in Indonesian police custody.  
About West Papuan People's Petition  
The West Papuan People's Petition represents an incredible effort of mass mobilisation by the people of West Papua and was hand-signed by 1,804,421 people: 1,708,167 indigenous West Papuans and 96,254 Indonesian settlers. The number of indigenous signatories represents an estimated 70.88% of the indigenous population of West Papua according to the latest independent research.
*In the Bomberai region which includes Timika, 267,437 signatures were collected.  
According to Dr Jason Macleod, of University of Sydney's Department of Peace and Conflict Studies, "the petition represents Papuans' demand for decolonisation and self-determination, their desire to freely and fairly determine their own future,". The petition was outlawed in all of Indonesia within days of its launch.  
About Yanto Awerkion's Court Appearances  
The KNPB reports that Yanto Awerkion was finally taken into court on 14th November, only to be told that his trial was to be postponed until 22nd November due to a lack of prosecution witnesses. On 22nd November, the trial was then postponed again until 12th December for the same reason and again for the same reason until 9th January 2018.  
Raki Ap, as Spokesperson for the Free West Papua Campaign, told Sydney Criminal Lawyers, "West Papuan political prisoners endure the Indonesian state's harshest discrimination and brutality. It is a testament to their courage that even behind bars, they continue to campaign for West Papua to be free."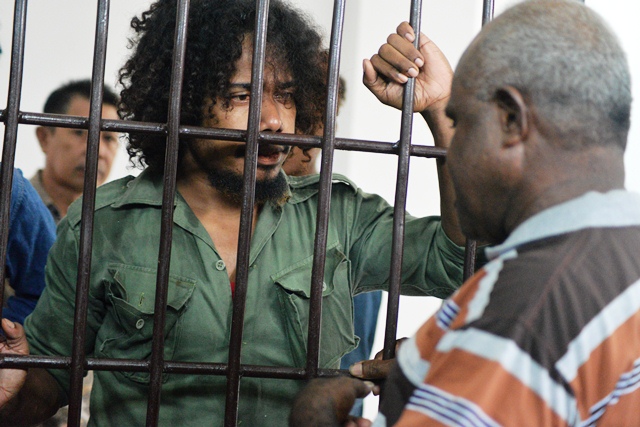 On 9th January, Yanto's trial was postponed again until 11th January as the judge failed to attend court. Commenting on the attitude of the judge, the attorney and the Indonesian police, the KNPB's regional Chairperson, himself a former political prisoner Steven Itlay stated, "they are not active and serious in dealing with Yanto Awerkion's legal process, there are always reasons to block his trials until now." 
He added "We appeal to all humanitarian observers to provide support, prayer and international solidarity actions for Yanto Awerkion's release". 
Finally, today during Yanto Awerkion's trial, the prosecution brought forward two witnesses, Laja Pilian and Sahir both members of the Indonesian police who were present when Yanto Awerkion was arrested.  
According to the KNPB, the witnesses testified that they were present during the KNPB worship and prayer ceremony but offered no answers as to how these activities gave grounds to arrest Yanto Awerkion, who was arrested without a warrant. In his report, Steven Itlay stated, "When these two police witnesses were questioned by the Judge, Prosecutor, and their Legal Counsel, both answered that they "did not know" until the end." 
He added, "The Judge also directed questions that were to be answered by both witnesses as well, but the two police officers replied they "did not know" again."  
The next trial session will take place on 16th January and it remains to be seen whether Yanto Awerkion will be found guilty under Indonesian law, simply for expressing his support for his people's fundamental right to self-determination.  
Prominent supporters of Yanto Awerkion include the author George Monbiot and the former New Zealand Green MP Catherine Delahunty, who told Radio New Zealand that supporting a petition to talk about a referendum for West Papuans was not treasonous. She said,  
"This young man is a symbol of the abuse of power and the state sanctioned colonisation and most people don't even know about it and don't know where it is." 
The Free West Papua Campaign is mobilising international public support for Yanto Awerkion and pressure upon the Indonesian authorities for his immediate and unconditional release.