News Stories
Category: Internationally Supervised Vote
Page 2 of 2
11 - 20 of 20 posts

December 19, 2017
Today, an unprecedented wave of solidarity from people across Indonesia took place for West Papua's freedom as the West Papuan Student's Alliance (AMP), together with the Indonesian People's Front for West Papua (FRI-West Papua), held rallies in 14 Indonesian cities.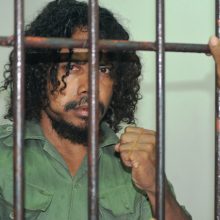 December 15, 2017
As the year draws to a close, we would like to give an update on the situation around West Papuan political prisoner Yanto Awerkion who was arrested on 30th May 2017, simply for speaking at an event supporting the historic West Papuan People's Petition which in total was signed by…

November 25, 2017
We are delighted to report that the new Prime Minister of Solomon Islands, H.E. Mr. Rick Hou, is following in the footsteps of former PM H.E. Mr. Manasseh Sogavare in supporting West Papua. Thank you Prime Minister! Tagio tumas! After meeting with Octovianus Mote from the United Liberation Movement for…

November 16, 2017
On 12th November, Vanuatu Prime Minister H.E. Mr. Charlot Salwai met with His Holiness Pope Francis at the Vatican and took the opportunity to raise the plight of the people of West Papua. 

November 10, 2017
On 8th November, Sydney Criminal Lawyers interviewed West Papuan Independence Leader Benny Wenda on the story, success and significance of the West Papuan People's Petition, which he presented to the United Nations in September, containing the signatures of over 1.8 million West Papuan people.

October 23, 2017
On 19th October in the Australian Senate, Leader of the Green Party, Senator Richard Di Natale put forward a motion in support of West Papuan self-determination, following the historic West Papuan People's Petition signed by over 1.8 million people being submitted to the Untied Natio

October 19, 2017
Research by the Papuan Women's Working Group together with the Asia Justice Rights (AJAR) has revealed shocking levels of Indonesian state violence being committed towards West Papuan women.

October 18, 2017
Yesterday, 17th October, Australia was elected to the United Nations Human Rights Council. As West Papua's closest and largest regional neighbour, this has incredibly significant implications for human rights in West Papua. Benny Wenda, West Papuan Independence Leader and Spokesperson for the United Liberation Movement for…

October 18, 2017
Yesterday 17th October, over 1,500 people gathered outside the office of the United Liberation Movement for West Papua (ULMWP) in Wamena, West Papua to give thanks at the successful delivery of the West Papuan People's Petition to the Untied Nations.

October 12, 2017
Below is a message from Ash Brennan, the founder of Rockin' for West Papua, a series of peace concerts held around the world for West Papua every year. He expresses his thanks and gratitude on behalf of the Free West Papua Campaign to all those who helped this all these…
Page 2 of 2
11 - 20 of 20 posts