News Stories
Category: Human Rights
Page 15 of 33
141 - 150 of 329 posts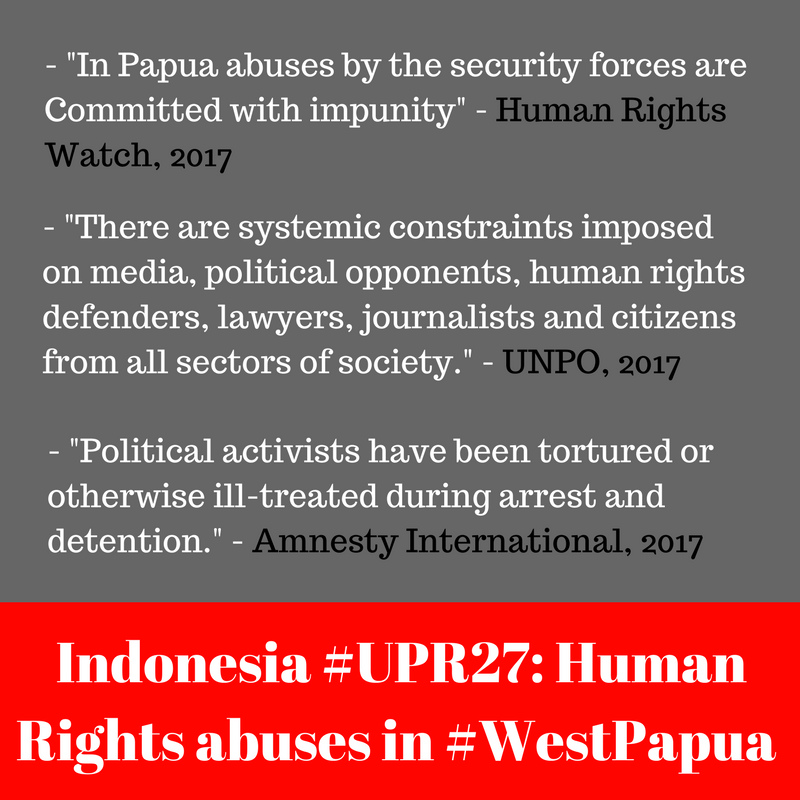 May 3, 2017
Indonesia was subjected to international scrutiny of its human rights record during the UN's Universal Periodic Review today. Dozens of international NGOs submitted briefings detailing a litany of abuse by Indonesia in the Papua provinces, before 90 countries asked questions and offered recommendations to Indonesia regarding its human rights record.…

May 1, 2017
We have just received urgent news from West Papua that 200 Papuans have been arrested and 26 tortured by Indonesian police, one day before Indonesia hosts the World Press Freedom Day in Jakarta.

April 29, 2017
We have just received an urgent report from West Papua that today at 03:50, local time, the Indonesian police came to the West Papua National Committee [KNPB] secretariat in Sentani and destroyed the stage building they had set up for a rally. Photos sent to us today show the Indonesian…

April 25, 2017
This statement has been released by West Papuan Independence Leader Benny Wenda as a message for ANZAC Day which has considerable importance for the people of West Papua and the rest of the Pacific, as well as to Australia and New Zealand Today, we remember those who have fallen.  Today,…

April 24, 2017
More urgent news from West Papua According to local reports and eyewitnesses, on 20th April West Papuan man Ulis Torot was shot by the Indonesian police in Aifat, Sorong, near the famous Raja Ampat Islands in West Papua. According to TabloidJubi, Ulis Torot was shot after an argument with…

April 23, 2017
URGENT – West Papuan man brutally tortured and beaten by the Indonesian military and police with stones, wires and boots for no apparent reason.   We have received urgent reports from West Papua that West Papuan man Yance Pigome has been tortured by members of the Indonesian authorities in Enarotali…

April 21, 2017
From May 1st to May 3rd there will be a Global Action for West Papua as demonstrations take place across the world, calling for full Press Freedom in West Papua. We are calling on YOU to join us in shining light on the media blackout in West Papua. Day of…

April 21, 2017
Dear friends of West Papua, We are inviting YOU to join in solidarity with the people of West Papua as we create a global alert for West Papua from May 1st to May 3rd. 1st May will mark exactly 54 years to the day that Indonesia first occupied West Papua.

April 12, 2017
Overview  2017 is currently progressing as another dismal year for media access in West Papua as the false promise of Indonesian President Joko Widodo in 2015 to allow foreign journalist's access to West Papua has fallen further into disregard.

April 5, 2017
From Radio New Zealand.  The international media watchdog, Reporters Without Borders, has called on the Indonesian President Joko Widodo to keep his election promise to allow local and international journalists to operate in West Papua without obstruction or surveillance. Tabloid Jubi reported this call came after the expulsion of French…