Benny Wenda to officially open Green Fair at Oxford Town Hall
November 27, 2019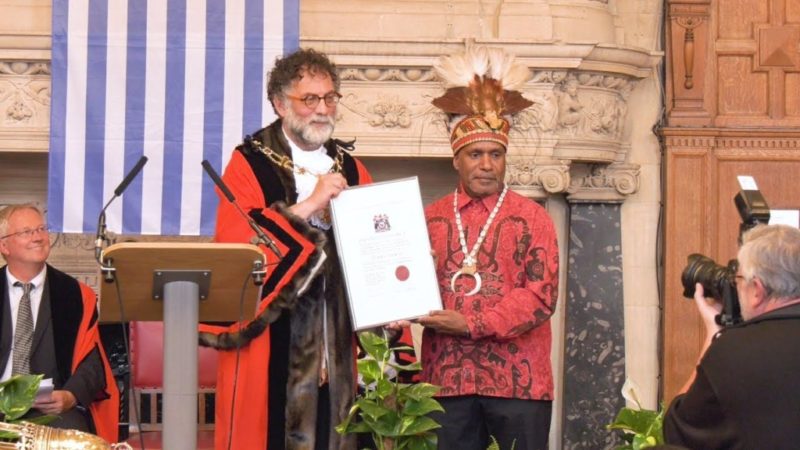 Benny Wenda, recipient of the Freedom of the City of Oxford award – Oxford's highest honour – will be officially opening the Oxford Green Fair at 11AM on December 1, 2019.

Mr Wenda is the leader of the unified West Papuan independence movement, operating since 2017 as Chair of the United Liberation Movement for West Papua (ULMWP). He and his family have been based in Oxford since the mid-2000s, after Mr Wenda escaped an Indonesian prison whilst facing 25 years on trumped up charges. December 1 is a historic day for the West Papuan people, who every year celebrate the anniversary of the founding of their independence movement and its symbols, like the Morning Star flag. The flag will be flown from Carfax Tower at the time of the ceremony, joining an annual worldwide flag-flying effort in solidarity with the movement to end Indonesian's occupation of West Papua. Raising the flag in West Papua can result in a 15-year prison sentence at the hands of the Indonesian authorities.

Benny Wenda said: 'I am happy to return to Oxford Town Hall, in the city that has welcomed me and my family for 15 years, on such a historic day for West Papuans. We will raise the Morning Star flag in Oxford – in my home land, you can be killed or thrown in prison for decades for raising this flag. We just want to be free, and we are continuing to struggle until we achieve independence.' The Town Hall will play host to the Oxford Green Fair, an Oxford Green Party Christmas event with festive and ethical stalls, vegetarian and vegan food and local community and charity organisations. Mr Wenda addressed the Green Party conference in Newport this year.

ENDS

Contact: Elise Benjamin, elise@greenoxford.com, 07920054888

Background:

West Papua, the western half of the Island of New Guinea, has been occupied by Indonesia since 1963. A former Dutch colony, the territory was handed over in a Dutch-US-UN brokered deal, pending a referendum on independence. When the 'referendum' came in 1969, just 1,022 West Papuan men were hand-picked and forced to vote in favour of Indonesian rule by the Indonesian military.

Around 500,000 West Papuans have subsequently died as a result of the occupation. Amnesty International, Human Rights Watch and the US State Department have documented continuing rampant torture, killings and arrests of political activists.

Mr Wenda became a leader of the movement in the early 2000s as head of Demmak, the Koteka Tribal Assembly. For his political activities, he was arrested and charged with 25-years. After a year of sham trials, he escaped and gained political asylum in the UK. In 2011, Indonesia put out an Interpol international arrest warrant, which was dropped after an internal Interpol investigation found the warrant to be 'political motivated'.