Join the Global Action for West Papua! 5th to 7th September
August 31, 2019

The last 2 weeks has seen the largest mass demonstrations across West Papua in nearly 20 years and as they risk their lives to raise their national flag and call for a referendum, the West Papuan people are sending a very clear message to the Indonesian government; enough is enough.

The inspiring West Papua Uprising began on August 18th, calling for justice after West Papuan students in Surabaya were racially abused, called "monkeys" and tortured by Indonesian forces. Since then, it has become a huge movement with protests everywhere across the country, demanding that West Papua's fundamental right to self-determination be respected through a referendum as the only solution for peace in West Papua.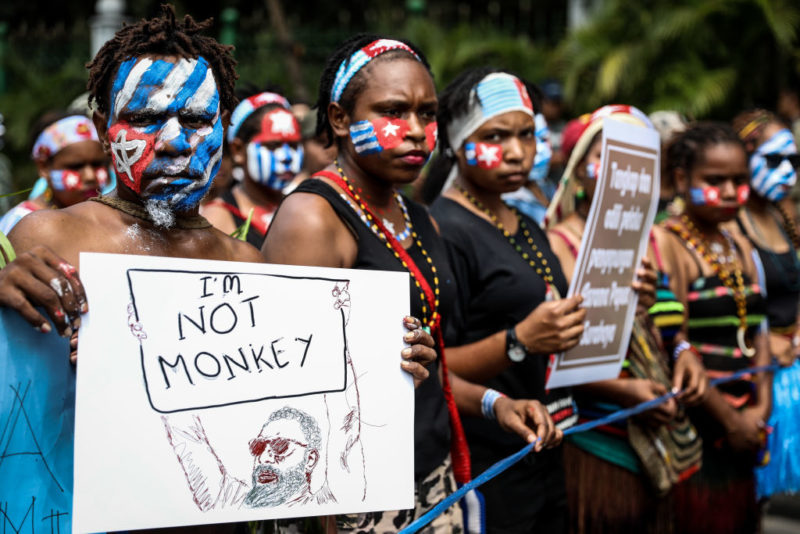 The Indonesian government were quick to crackdown on this peaceful movement and immediately blocked the internet and cut phone lines and then started arresting, shooting and killing West Papuan people, including in Deiyai where at least 6 West Papuan people were massacred by the Indonesian Security Forces on 28th August.

That is why from 5th to 7th September, 2019 there will be a Global Action in solidarity with the West Papuan people and their struggle for justice. Across the world, we are calling for people everywhere to take part in demonstrations, protests and acts of solidarity with West Papuans with the message that after over 50 years of suffering, it is now time for West Papuans to be allowed to choose their own destiny.
Here's what YOU can do to help:
Join the global demonstrations in solidarity with the people of West Papua!
We will be listing all solidarity events on this website and through our Facebook and Twitter accounts but if there is not one near you, set up your own! Send us the details via office@freewestpapua.org and we will share them far and wide.

Print out the "I stand with West Papua" signs.
You can print out these solidarity signs free here. Encourage friends, family and colleagues to stand in solidarity with West Papua, holding these signs. Send us the photos and videos and we will share your support with the world!

Sign the petition!
Please sign the online petition here, created by the Southeast Asia Freedom of Expression Network calling on the Indonesian government to immediately reinstate internet access in West Papua. Help the people of West Papua get the message out about what is really happening in their country.
Exactly 50 years since West Papua was first illegally occupied by Indonesia, now is the time for the world to wake up and stand in solidarity with the West Papua Uprising. As the world supported the people of East Timor during their time of need, so too must the world now stand with the people of West Papua.

#ReferendumNow!