Mass grave discovered as West Papuan women and children shot dead by Indonesian military
October 12, 2019
Please note, this report contains images and information some people may find distressing.

On 10th October, the bodies of five West Papuan people were found near Iniye village of the Nduga region. They had been shot dead by the Indonesian military on 20th September, with their bodies left to rot in a shallow grave covered in leaves.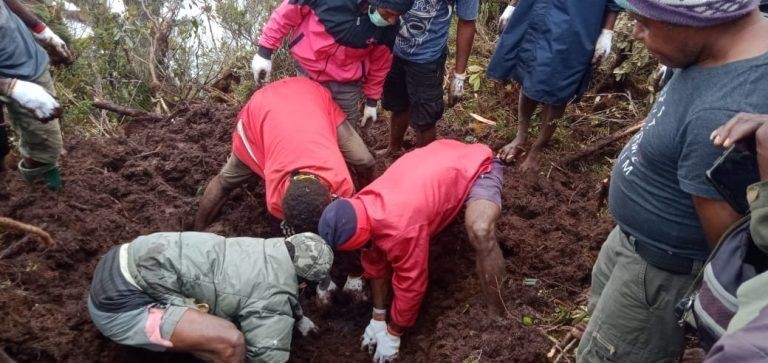 Uncovering the massacre
According to local reports, the three women and their children had become internally displaced refugees due to the ongoing Indonesian military operations in Nduga which began in December 2018, and which has caused the displacement of some 40,000 people (approximately 40% of the entire Nduga population).

According to TabloidJubi, the mothers and children were apparently returning to the Batu caves at Kanbobo mountain where they had stored food, intending to bring it back to their families when they were seen by the Indonesian military and shot dead.
The names and ages of those killed is as follows:

1. Yuliana Dronggi (35 years old)
2. Jelince Buggi (25 years old)
3. Macen Kusumbrue (26 years old)
4. Tolop Buggi (13 years old)
5. Hardius Buggi (15 years old)
We call for a full and independent investigation into this brutal massacre and for all those responsible to be prosecuted. The families of those who died deserve to know what happened. The Indonesian military must immediately withdraw from Nduga.
Information in this report comes from TabloidJubi, IDN Times and local West Papuan activists.