News Stories
Category: United Nations
Page 3 of 4
21 - 30 of 40 posts

September 15, 2017
On behalf of the United Liberation Movement for West Papua (ULMWP) and the people of West Papua, I would like to thank everyone who has signed and been involved in both the West Papuan People's Petition and the Global Petition for West Papua. We the people of West Papua, supported…

September 6, 2017
Yesterday demonstrations were held in Apia, Samoa and Kiunga, Papua New Guinea to call upon the Pacific Islands Forum (PIF) to support self-determination for West Papua at the current 48th Leaders Meeting.

September 6, 2017
The following media statement has been released by the United Liberation Movement for West Papua (ULMWP) mid the upcoming Pacific Islands Forum (PIF).      MEDIA STATEMENT ULMWP appeals to PIF to support West Papua  On behalf of the people of West Papua, ULMWP would like to welcome…

August 2, 2017
TODAY, 2nd August marks the 48 year anniversary of the "Act on NO Choice" in West Papua, where 1,026 people (less than 0.2% of the population) were threatened & forced to 'declare' that they wished to remain with Indonesia, and the people and lands were handed over to President Suharto's…

July 18, 2017
On a tropical island in the South Pacific, tens of thousands of people are gathering to write down their names and details. In secret locations, they are meeting at beaches and in the jungle to hold banners showing their support for a group of swimmers in Geneva. They appeal to…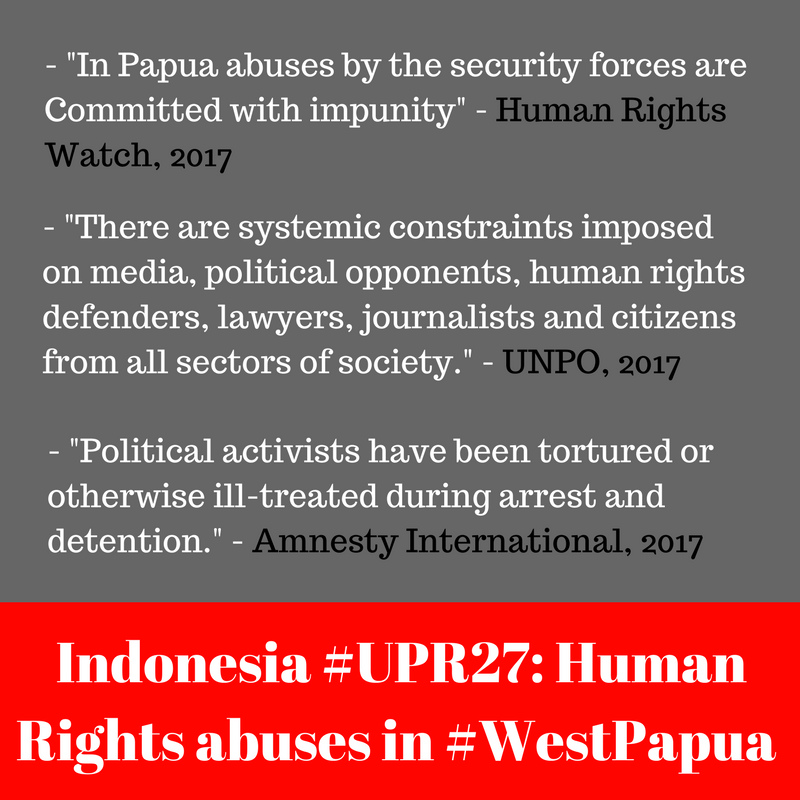 May 3, 2017
Indonesia was subjected to international scrutiny of its human rights record during the UN's Universal Periodic Review today. Dozens of international NGOs submitted briefings detailing a litany of abuse by Indonesia in the Papua provinces, before 90 countries asked questions and offered recommendations to Indonesia regarding its human rights record.…

March 1, 2017
The United Liberation Movement for West Papua (ULMWP) leaders Benny Wenda and Octovianus Mote are at the United Nations in Geneva for the High-Level Segment -34th Regular Session Human Rights Council. Along with other senior Pacific delegates from the Pacific Coalition for West Papua.

December 31, 2016
Below is a special Christmas and New Year message by the Nobel Peace Prize Nominated West Papuan Independence Leader Benny Wenda , thanking and encouraging everyone for their continued support for West Papua. This message was originally published as part of our full Christmas and New Year message.  "I would

December 24, 2016
The Free West Papua Campaign would like to wish everyone a very Merry Christmas and a Happy New Year! It's been an incredible year for West Papua with so much momentum and support increasing  from around the world.