Indonesia under pressure during Universal Periodic Review and World Press Freedom Day over record in West Papua
May 3, 2017
Indonesia was subjected to international scrutiny of its human rights record during the UN's Universal Periodic Review today. Dozens of international NGOs submitted briefings detailing a litany of abuse by Indonesia in the Papua provinces, before 90 countries asked questions and offered recommendations to Indonesia regarding its human rights record. Indonesia's double standards on press freedom were also criticised as Jakarta hosted World Press Freedom Day.
Universal Periodic Review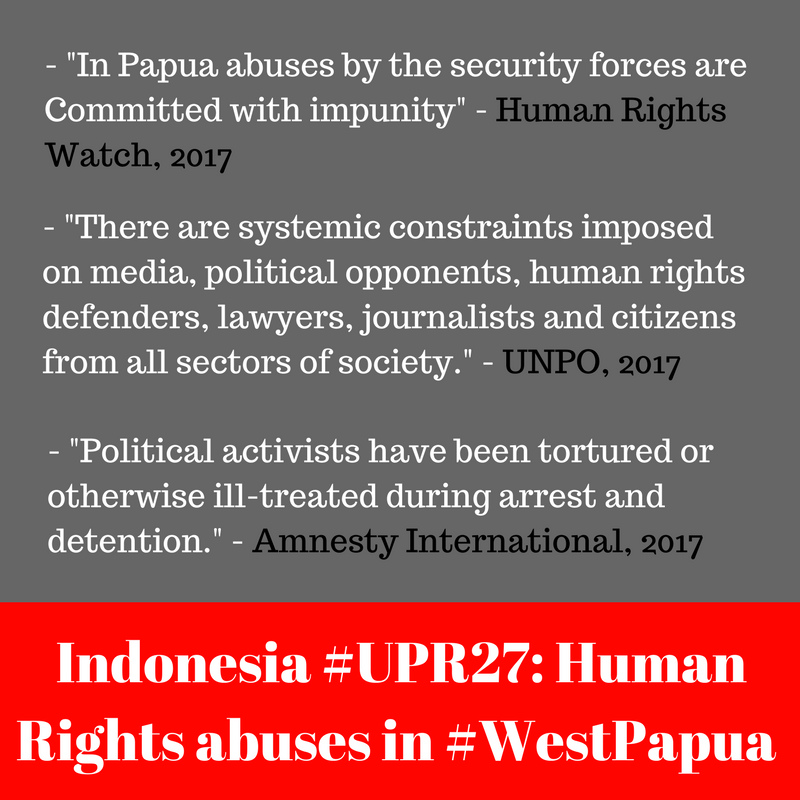 In the run-up to the Universal Review, several organisations submitted evidence of severe ongoing violations of human rights in West Papua.
Amnesty International noted "hundreds of arrests of peaceful political activists, particularly in Papua", tracing it back to the charge of 'rebellion' under Articles 106 and 110 of the Criminal Code which can lead to Papuans being arrested for life for simple expressions of pro-independence sentiment. Amnesty also stated that it regularly receives "credible reports of unlawful killings and unnecessary or excessive use of force and firearms by the police and military personnel during peaceful pro-independence protests and gatherings", a routine occurrence in West Papua.
Human Rights Watch documented 37 Papuan political prisoners, usually arrested for non-violent actions such as raising the Papuan Morning Star flag. The organisation noted that "Indonesian authorities also continue to restrict access by foreign journalists and rights monitors to Papua", following on from its land-mark report into the restrictions in late 2015.
Freedom Now burst Indonesian government rhetoric by stating: "Any suggestion that Indonesia has made progress in promoting and protecting human rights is countered by the numerous alleged violations occurring in Papua and the West Papua provinces". Freedom Now noted, amongst other cases, that "264 peaceful activists were arrested and a further 216 members of the West Papua National Committee were arbitrarily detained for participating in peaceful
demonstrations" during May 2015.
Even the Indonesian government-established National Commission on Human Rights (Komnas HAM) stated that "Various forms of injustice in the field of civil and political rights are still felt by the populations of the Province of Papua and West Papua. Economic, social and cultural imbalances, as well as repression of civil and political rights, both past and present demand the immediate restoration of rights for the people of Papua and reparation for rights violated in the past."
Various countries raised concerns over West Papua in their speeches at the UN, including Mexico and the United States.
World Press Freedom Day 
Numerous observers ridiculed Indonesia's double think, hosting World Press Freedom Day the day after arresting 200 non-violent demonstrators and beating journalist Yance Wenda.
Reporters Without Borders, one of the most widely-respected international media freedom advocacy groups, condemned Indonesia's "double dealing" on press freedom. Scott Ludlam, Australian Senator, spoke of the "unfolding crisis" happening in West Papua, recognising that "You won't read much about it in the English language news though; foreign media can't get into West Papua."
The Guardian's First Dog on the Moon cartoon ran an entire strip about the issue, referencing the 1998 Biak Massacre and ban on journalists.
UK MP Andrew Smith also showed solidarity with the West Papua struggle.
Take Action
Want to help free West Papua from torture, extrajudicial killings, massacres, environmental destruction, and denial of self-determination? Here are a number of things you can do:
Sign our global petition to the UN calling for self-determination for West Papuans, to be swum up Lake Geneva in August 2017
Raise awareness: Tweet about West Papua (you could take some quotes from this article), make graphics, videos, FB posts, write blogs
Lobby: get in touch with your representatives and brief them on the situation and ask them to support self-determination in West Papua
Donate to the Free West Papua Campaign