News Stories
Category: Morning Star flag
Page 3 of 4
21 - 30 of 32 posts

October 29, 2016
I have just received urgent reports that on 27th October, at least 9 West Papuan people were shot and 1 was killed as the Indonesian police opened fire in Manokwari. According to reports, West Papuan people took to the streets to protest the murder of a West Papuan youth Vigal

October 28, 2016
This month, the world has been Rocked by the Global Music concert Rockin' for West Papua! This In Australia: Adelaide, Brisbane, Darwin, Lismore, Gold Coast, Melbourne, Newcastle, Perth and Sydney In the Netherlands: The Hague In Poland: In South Africa: Gauteng In the UK: Bristol, Edinburgh In the USA:

October 6, 2016
Melanesian Identity is growing in West Papua as a reaction to the increasing repression of the West Papuan people

August 26, 2016
The Free West Papua Campaign is happy to announce that the first GLOBAL PEACE CONCERT will be held for West Papua this October and we are inviting YOU to be a part of it. Join Rockin for West Papua NOW!!!

June 2, 2016
Dear everyone, Recently the world has seen a huge growth in the international solidarity for West Papua's freedom as we launched a truly historic meeting at the British parliament in Westminster calling for an Internationally Supervised Vote to peacefully determine the future of the West Papuan people. This has fueled…

April 22, 2016
This week Indonesian President Joko Widodo (Jokowi) was met with Free West Papua protests on his tour of European Union countries. Free West Papua demonstration in the United Kingdom Earlier this week, the Free West Papua Campaign announced that we would demonstrate against the arrival of President Jokowi because he

April 11, 2016
On 5th April, West Papuans commemorated what they refer to as the Day of Hope, the day that the West Papuan Parliament was first launched in 1961. Indonesian military and police storming the peaceful West Papuan prayer gathering because West Papuans were praying for full membership…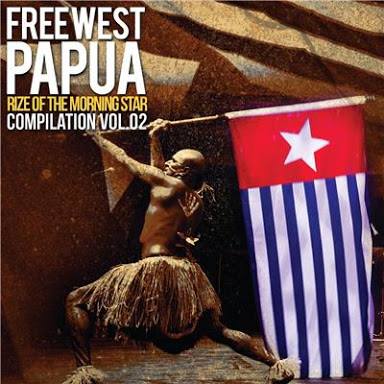 March 17, 2016
We're very happy to share with you all that the international movement Rize of the Morning Star has just released their second CD compilation which features many prominent musicians from around the world, using their musical talents to raise international awareness and support for West Papua's freedom.

December 12, 2015
The Free West Papua Campaign is very happy to announce the winners of this year's 1st December Flag Raising award! Background Every year on…

December 8, 2015
Today, Benny Wenda addressed the entire Oxford City Council in the United Kingdom and thanked them for the tremendous support Oxford continues to show for West Papua's freedom. He said, "We West Papuans feel that this Campaign is very safe in the hands of the people of Oxford. From this…