Rize of The Morning Star launches CD Compilation #02
March 17, 2016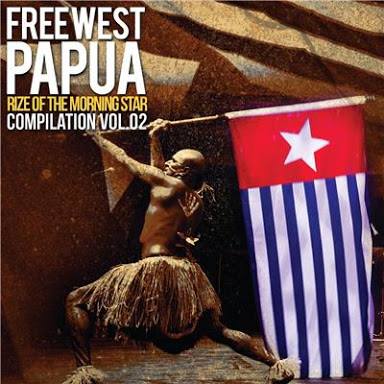 We're very happy to share with you all that the international movement Rize of the Morning Star has just released their second CD compilation which features many prominent musicians from around the world, using their musical talents to raise international awareness and support for West Papua's freedom.
The 'RIZE OF THE MORNING STAR' banner unites musicians everywhere to support West Papua and uses music as a weapon to resist oppression and bring hope to all West Papuans inside and abroad to continue their fight for independence.

From Rize of the Morning Star: 'The sounds of this star-studded music compilation will engulf listeners with sound-scapes and fierce messages that reflect the troubling heart of a nation facing injustice and denial of their rights to self-determination for over five decades.'
'The album features: One People band from South Africa with "Time to Rise", Big Mountain from the USA featuring the Black Sistaz from West Papua reiterates the "Vision", Australia's Blue King Brown puts the call out to "All Nations", the brand new release of Jagarizzar (PNG) with "Independence", and Indigenous music legends of Australia Yothu Yindi with their song from Bouganville "Spirit of Peace". The album also includes songs from late Arnold Ap (West Papua), Seru Serevi (Fiji), Stan and the Earth Force (Vanuatu), Soul Jay (Solomon Island), Sprigga Mek (PNG), Anthony B with Mr Savona (Aus), KRK (Vanuatu), Anslom (PNG), King Kapisi (Aotearoa), Kaivili (Fiji) and Airileke (PNG/Oz), Tabura (West Papua/Aus), Vanessa Quai (Vanuatu) & Tevaka (Tokelau/NZ).
All proceeds go to awareness raising activities for RIZE OF THE MORNING STAR.
For interviews with any of the Artists please contact
PNG +675 71701830
AUSTRALIA +61 497686589
Email: Rizemerch@gmail.com '