Massacre looming as Indonesian military targets villagers in Nduga
December 6, 2018
The below statement was originally published on the website of The United Liberation Movement for West Papua (ULMWP) and can be read here.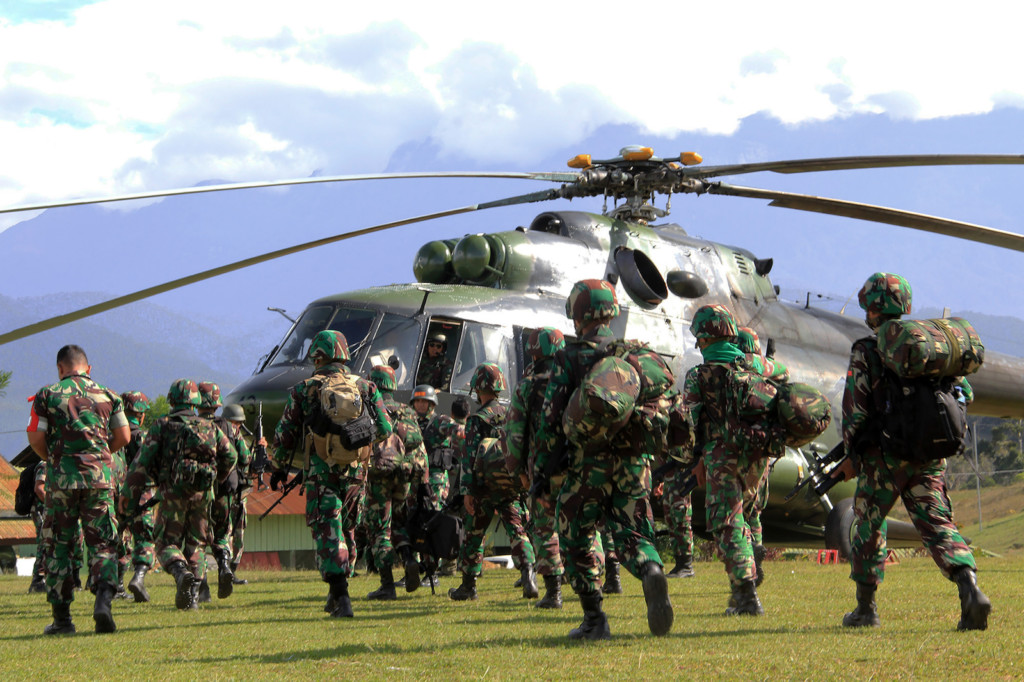 5th December 2018
The United Liberation Movement for West Papua (ULMWP) is greatly concerned by recent reports of killings in the Nduga region of West Papua, as well as reports of the Indonesian military bombing West Papuan villagers in retaliation.
On behalf of the ULMWP, I would like to clarify that such unverified reports can be neither confirmed nor denied, nor can we pass judgement or blame before all the facts are known. We cannot ascertain the facts on the situation on the ground because of the profound lack of media access in West Papua, resulting from Indonesia's ongoing ban of foreign journalists. If the Indonesian government is serious about determining the truth of these events, they must immediately allow media access into West Papua. What we do know is that the Indonesian government, through media propaganda, is once again manipulating events in West Papua for their own interests. By depicting West Papuans as savages with no regard for Indonesian lives, the Indonesian government is trying to systematically stunt the growing solidarity for West Papua shown by the Indonesian people.
The West Papua liberation army are not criminals. They have every right to live peacefully in their own ancestral land and defend themselves by all means necessary if their lives and homes are at risk by external threats. The liberation army do not target civilians or engage in sporadic acts of killing as the Indonesian military do. As far as the liberation army is concerned, they are protecting their nation as any other national army does. The West Papuan army has long had a policy to protect civilians and to completely separate them from military opponents. In fact, West Papuans have lived alongside thousands of Indonesian migrants; including teachers, health workers and government officials for more than five decades without fighting them. While the Indonesian military see every West Papuan as a target, West Papuans have no history, experience, nor intention of hurting civilians.
The ULMWP is greatly concerned about the welfare and lives of all people in West Papua. Since our formation, we have been clear that we are an entirely peaceful movement and respect all civilians whether West Papuans, or Indonesian migrants in West Papua. The Indonesian people are not our enemy and we look forward to the day when West Papua is free, and we can welcome them to come as good neighbours.
The ULMWP fight for independence is purely at the political and diplomatic level, striving for a peaceful democratic solution in West Papua through the proper international mechanisms. The only way to stop this bloodshed is for international recognition that the West Papuan people must be allowed to freely and peacefully achieve political sovereignty through an act of self-determination.
Every false claim by the Indonesian government, is used as an excuse to deploy more and more Indonesian military personnel to West Papua, in further attempts to systematically ethnically cleanse and wipe out the entire West Papuan population. We West Papuans know only too well that all such "mysterious killings" in West Papua are masterminded by the same Indonesian military, police and intelligence services who torture our people, violate our rights and rape our ancestral land for natural resources. For over 50 years, the Indonesian security forces have been treating West Papuans as a security threat, instead of trying to find a permanent, peaceful conflict resolution in West Papua, but the very presence of the Indonesian Security Forces poses a very real existential threat to the people of West Papua themselves.
West Papua has become the most militarised country in the Pacific and the situation has reached a critical level with tens of thousands of Indonesian military personnel stationed there. From when West Papua was first illegally occupied by Indonesia in the 1960s to now, over 500,000 West Papuan men, women and children have been killed in a slow-motion genocide. Under Indonesian colonial occupation, West Papua is becoming a killing field.
As Chairman of the ULMWP, I therefore call on the Indonesian government to immediately cease the continued militarisation of West Papua and I urge the international community to intervene by sending a United Nations Fact-Finding Mission to investigate all human rights violations in West Papua and to hold the perpetrators who live with impunity for these atrocities accountable.
Conflict in West Papua is not an issue of development or infrastructure but is an issue of the survival of the West Papuan people. We reject false promises of 'development' which we know will only increase illegal Indonesian military business throughout our sacred land. The fighting and conflict are so deeply rooted in the hearts and minds of every West Papuan, it is an attack on our political rights, sovereignty, environment, and our very existence.
I also call upon the Indonesian government to immediately cease their militarisation of West Papua and to agree with the ULMWP and all West Papuans in helping to facilitate a genuine peace process which accommodates the self-determination aspirations and rights of the West Papuan people through means of a referendum. Our only demand is an internationally supervised referendum on independence.
Benny Wenda
Chairman of The United Liberation Movement for West Papua (ULMWP)