'Music Is A Weapon' MCR Punks For West Papua
November 4, 2018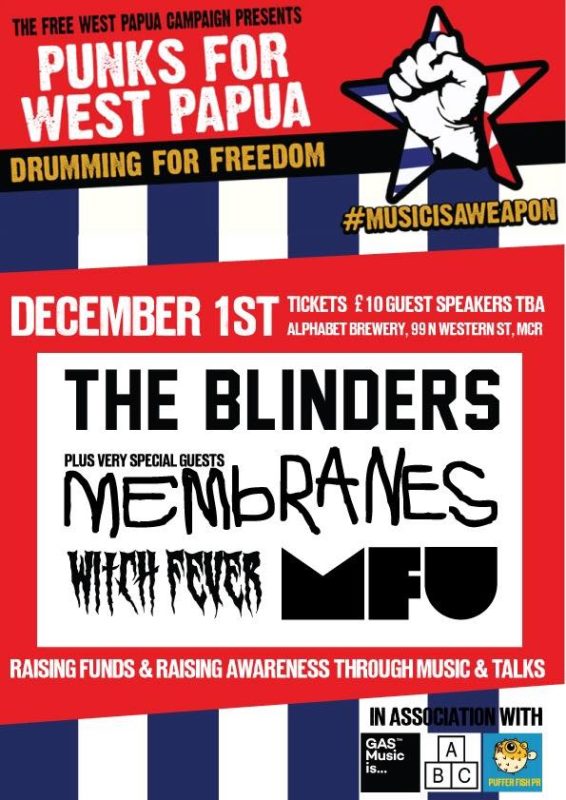 On December 1st, 2018 the newly formed Manchester chapter  –MCR Punks For West Papua  will officially launch in the U.K. The MCR Punks team will be 'Drumming for Freedom' to raise awareness about the ongoing genocide happening in West Papua. The first bands to take up the mission in Manchester are The Blinders,  The Membranes, Fever Witch, and MFU (Modern Family Unit).
To send a thunderous message to the United Nations to intervene in West Papua, MCR Punks will challenge a world drumming record in the Summer of 2019. We invite drummers, musicians, activists, media and volunteers! If you can hit a drum you can help be part of the world record attempt to change the world for the better. To get involved in the world record drumming attempt please contact us at office@freewestpapua.org.
The launch of MCR Punks for West Papua is scheduled for December 1st because it is a historic day in West Papua. It marks the 57th anniversary of the first raising of West Papua's symbol of independence, the Morning Star Flag. It is illegal to raise the Morning Star in West Papua. Doing so can bring charges of treason and a 15 year jail sentence. On December 1st people in West Papua, and all over the globe, will be participating in a Global Flag Raising to show their solidarity.
If you are in the Manchester area on December 1st join us to raise the Morning Star and use #MusicAsAWeapon to #FreeWestPapua –  Click here for 'Drumming For Freedom' : TICKETS  at Alphabet Brewing Company located at 99 N Western St, Manchester M12 6JL, UK
Background
Punks For West Papua Australia was first launched in 2016 as the brainchild of Jody Bartolo from the punk band Diggers With Attitude to shine a light on the threat of eco-cide from resource extraction, human rights abuses against the people at the hands of Indonesian security forces, and to inspire others to stand in solidarity for West Papuan independence.
"Indonesia is not going to continue getting away with the slaughter of the indigenous rightful owners of West Papuan land" says Ash Brennan co-founder of Punks For 4 West Papua, Australia.
The Australian punk rock community created a no-holds barred Australian wide benefit, involving over 50 bands in 7 cities around the country, making Punks For West Papua the biggest, and no doubt, loudest punk rock showcase in the nation's history. "Australian punk is loud, very loud. Pernicious resource extraction in West Papua has also been hazardous to the environment and is a major contributor of Climate Change. But the world is now watching" says Brennan.
According to Punks For West Papua Manchester co-founder Gary Hilton of Gas Music: "Little known Melanesian country West Papua has been subjected to a media black out for over 50 years. But with more than 500,000 indigenous people murdered to loot West Papua's gold and other vast natural resources – time's up."
John Robb, owner of Louder Than War and Punk with The Membranes, launched in 1977, says: "Punk rock was always more than three chords. It was a force of empowerment and an energy of hope. It always thought it could change the world. Maybe it's now finally making that change."
For more information about our campaign please visit:
Punks 4 West Papua Australia Trailer
Amnesty International Report:
https://www.amnesty.org/download/Doc
uments/ASA2181982018ENGLISH.PDF
Benny Wenda, Chairman of the United Liberation Movement For West Papua (ULMWP) Statement from X – September 21, 2018
https://www.freewestpapua.org/2018/09/21/benny-wenda-releases-statement-warning-of-danger-to-west-papuans-during-unga-session/
SOCIAL MEDIA:
Free West Papua Facebook Page