News Stories
Category: Torture
Page 2 of 2
11 - 16 of 16 posts

October 24, 2017
Following the brutal torture of West Papuan student Yunus Wanaruni by the Indonesian police, the Asian Human Rights Commission (AHRC) has created an urgent action appeal in calling for justice.  TAKE ACTION HERE  You can read the full report and action below: Dear Friends, The Asian Human Rights…

October 24, 2017
The photo and much of the info in this article come from Radio New Zealand.  In the last few days, news has filtered out of West Papua that the Indonesian militry and police have nce again been engaging in "Sweeping Operations" around the area of the Grasberg Mine, operated by…

October 19, 2017
Research by the Papuan Women's Working Group together with the Asia Justice Rights (AJAR) has revealed shocking levels of Indonesian state violence being committed towards West Papuan women.

October 19, 2017
We have recently received disturbing reports from the West Papua National Committee (KNPB) that from 11th to 13th October, West Papuan student Yunus Manaruni was brutally tortured and threatened with death by the Indonesian police for allegedly not having his motorbike licence. He was reportedly beaten at least 10 times

October 17, 2017
The statement below has been written by West Papuan Independence Leader Benny Wenda, following a spate of brutal human rights violations committed towards West Papuan people this month.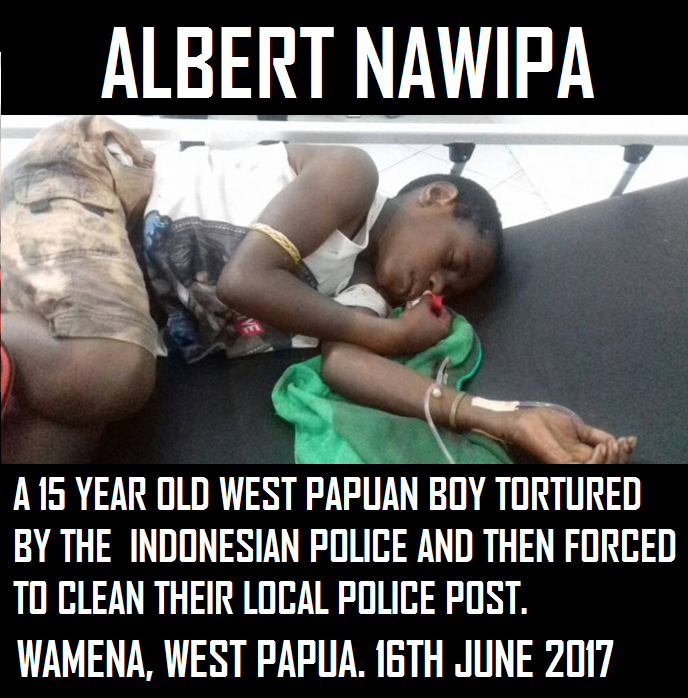 June 23, 2017
URGENT NEWS – WEST PAPUAN BOY TORTURED BY THE INDONESIAN POLICE We have received urgent reports from West Papua that on 16th June 2017, Albert Nawipa, a 15 year old West Papuan boy was brutally tortured by the Indonesian police in Wamena. After being brutally tortured, Albert was then reportedly…
Page 2 of 2
11 - 16 of 16 posts