Environment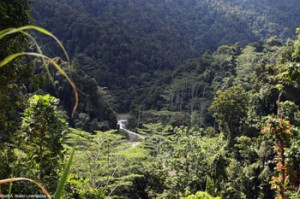 West Papua is one of the last great wildernesses on earth. It is covered in virgin rainforest, second only in size to that of the Amazon, and is home to many unique species of flora and fauna such as rare orchids, birds of paradise and tree kangaroos. But just like the people of West Papua, this beautiful paradise is under attack.
The Freeport Mine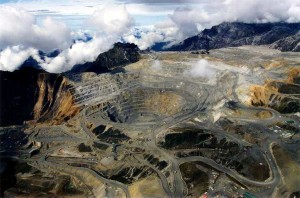 The Freeport mine in Grasberg is the largest gold mine in the world. Majority owned by the US mining company Freeport McMoRan the mine is the cause of an environmental catastrophe in the region. What once was a glacial mountain peak is now a giant crater cut deep into the earth. The contents of the mine, almost a million tonnes of waste have been dumped into the river system, poisoning the local environment and destroying the lives of the tribes that lived there. The corruption at the heart of the Freeport mine runs even deeper than the mine itself. Contracts for the mine were drawn up between Indonesia and Freeport McMoRan in 1965 even before the UN shamefully sanctioned West Papua to become part of Indonesia in 1969 – heavily suggesting interested parties has already agreed on the outcome of the 1969 'Act of Free Choice'. Henry Kissinger helped broker the deal and later joined the board of Freeport McMoRan. The surrounding area is one of the most heavily militarised in the whole of West Papua with Freeport openly paying large sums of money to the Indonesian military for "protection". The New York Times discovered "from 1998 through 2004, Freeport gave military and police generals, colonels, majors and captains, and military units, nearly $20 million. Individual commanders received tens of thousands of dollars, in one case up to $150,000".
"We're going to mine all the way to New Orleans." Jim Bob Moffett, CEO of Freeport McMoRan
Logging and Palm Oil Plantations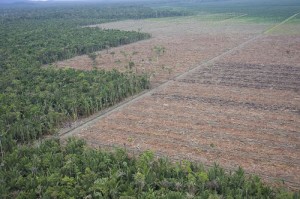 Having decimated most of the forests across Indonesia, timber companies have turned to West Papua with a vengeance. Despite a recent moratorium freezing all new permits to clear primary forest, illegal logging is rampant with logging companies paying off the military for protection. But yet another business is now posing an even greater threat to the forest: palm oil for bio fuels. Ironically being produced as a solution to climate change this highly damaging activity involves destroying virgin rainforest and replacing it with monoculture crops which require heavy chemical treatments. Greenpeace Indonesia has noted that every year the rate of deforestation in Papua reaches as much as 300 thousand hectares. Severe deforestation is occurring in southern Papua, particularly areas packed with oil palm plantations. Land is often taken from local people without their full knowledge and leaves them with no livelihoods afterwards, unable to feed themselves and their children.
MIFEE
The Merauke Integrated Food and Energy Estate (MIFEE) is a vast mega-project, a plan for over a million hectares of plantations and industrialised agriculture that threatens the people and environment across the southern part of West Papua. Indonesian and foreign companies have each claimed their share of the land, and offer the local Malind people next-to-nothing in exchange for the forest that has sustained them for countless generations. A fully comprehensive report of the project and more information can be found at the informative awas MIFEE LINK. The following short film shows graphically the effects this projects is having on the local environment and people: