More of the same: human rights in West Papua, July-September 2017
September 13, 2017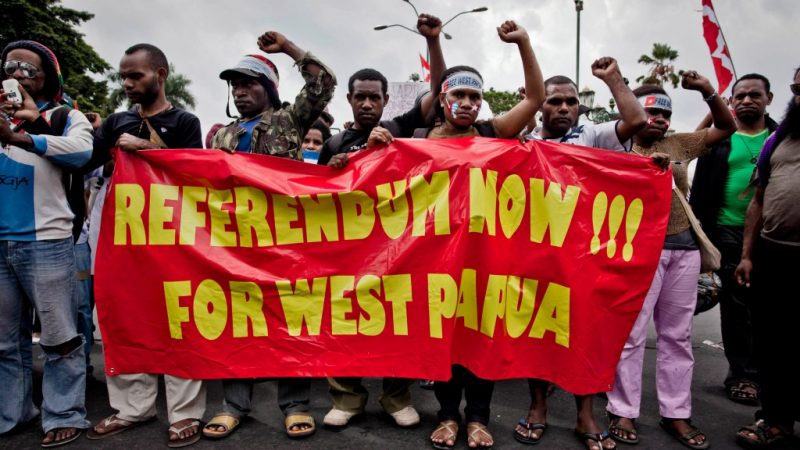 Unsurprisingly, a litany of human rights abuses have continued to wrack occupied West Papua from July to September this year. As we documented, 2016 was a year of continued harassment, mass arrests, imprisonment and killings; 2017 has been similarly dire for West Papuans.
Mass arrests
Under President Joko Widodo, mass arrest of non-violent demonstrators has become a favoured modus operandi for crushing Papuan dissent. In total, we believe that between July 1 and September 13, 329 people were arrested or detained by the Indonesian police in West Papua and Indonesia for expressing support for West Papuan self-determination.
Between June 30 and July 6, around 135 West Papuan people – including 35 children – were arrested, many of whom were tortured. The detentions were a response to disturbances following the arrest and imprisonment of Yanto Waine, a West Papua National Committee (KNPB) activist, for handing out leaflets. The Asian Human Rights Commission described the events as a "massive unlawful deprivation of liberty against Indigenous Papuans".
On July 8, West Papuan man, Theo Hesegem, a coordinator of the Advocacy Network for Law Enforcement and Human Rights (JAPH-HAM), was intimidated and insulted by the Indonesian military for defending Niko Hisage after he was tortured by the Indonesian military. It has been another year of high-profile human rights defenders being targeted: Papuan man, Nareki Kogoya, who works for the National Human Rights Commission (KOMNAS HAM), found himself detained and tortured by the Indonesian police on May 18.
To kick off the month of August, one West Papuan man, Yulius Pigai, was killed and seven other Papuans shot at a protest against construction company PT Putra Dewa Paniai. West Papuans had congregated after company workers refused to transport a Papuan to a local hospital. The police arrived and opened fire; such blatant violence caused ripples across Indonesia, although as Human Rights Watch noted, the coverage ultimately led to little more than a 'wrist-slap' for the police officers involved, and no criminal prosecutions – as usual.
On August 20, in another routine occurrence, 24 West Papuans were arrested by the police merely for attending a meeting of the KNPB in Fakfak.
Yanto Awerkion
Often, mass arrests are a way of intimidating West Papuans, breaking up demonstrations and acts of resistance before those detained are released without charge. Sometimes, however, prominent Papuans are detained and threatened with lengthy prison sentences. Yanto Awerkion, regional coordinator of a KNPB, was arrested on May 30 in Timika for promoting the West Papuan People's Petition. He remains behind bars today, and is facing charges of 'rebellion', with a possible 15-year jail sentence. He released a video from prison here.
Other abuses
The International Coalition for Papua (ICP) documented 17 cases of torture and ill-treatment in the region in the second quarter of 2017 alone. The ICP also recorded 37 violations of the right to health, and at least 3 assaults/obstructions of journalists. The ICP second quarter report records instances of police burning down a village hall, opening fire at non-violent demonstrations, attacking West Papuans with knives and beating journalists.
Of course, the recorded instances only make up a fraction of the total, as much abuse never makes it further than its immediate vicinity. The horrors documented in this article are but an infinitesimal slice of those the West Papuan people have faced routinely ever since the Indonesian invasion of 1963. These abuses are a manifestation of torture as a "mode of governance" by Indonesian security apparatuses, as academic Budi Hernawan describes it; they are manifestations of the systemic "threat to the Papuan peoples' existence and survival as a culture and ethnic entity", as the monitoring group Geneva for Human Rights put it last year. And as long as Indonesia's elite international allies – the US, UK, Australia, New Zealand and others – continue to support the occupation, through silence, diplomatic facilitation and police training, then these atrocities will be all the harder to stop.
Ultimately, these human rights abuses are a "failed attempt to silence West Papuans non-violently expressing a political opinion", as one report puts it. The West Papuan populace continues its valiant struggle – we should support them. Papua Merdeka!
To donate or see how else you can help the Free West Papua Campaign, see here.