Support from world renowned artist J BOOG for West Papua
May 8, 2017
On 4th May, legendary Pacific artist J BOOG met with friends and family members of West Papuan Independence Leader Benny Wenda, in Oxford United Kingdom. A world famous musician of Samoan origin, J BOOG has inspired the people of West Papua and people across the Pacific with his promotion of Pacific reggae.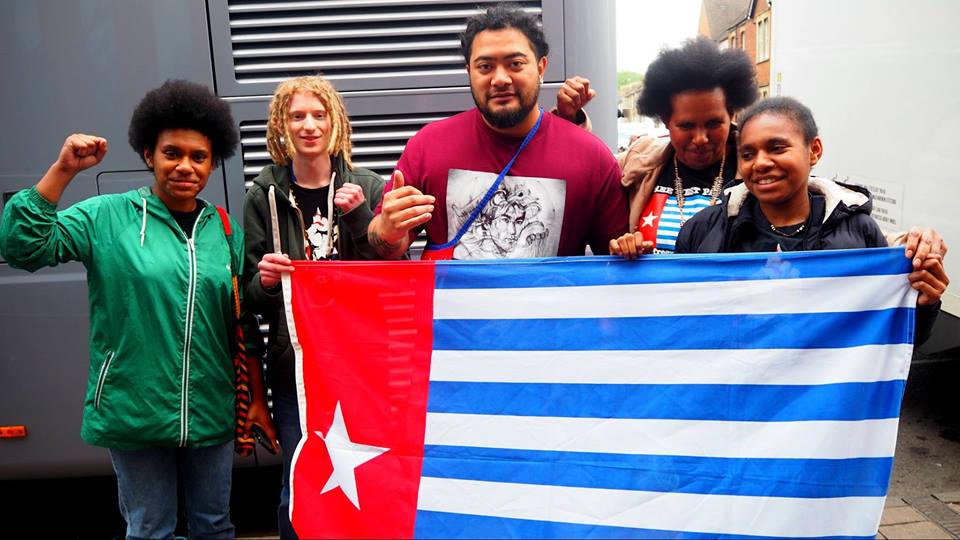 He was presented with a traditional West Papuan bilum and a Free West Papua T-Shirt and raised the West Papuan flag in solidarity with the Pacific people of West Papua. Sharing this photo on social media, J BOOG stated:
"It was an honor to meet with the children of exiled West Papuan Independence Leader @BennyWenda . I pray for Peace and Unity within our people of the pacific. I pray for strength during this long road to Independence and I proudly stand for the independence of West Papua.#LoveOverEverything #FreeWestPapua #StandForSomething"
The people of West Papua are full of gratitude for this powerful show of support from such a well known fellow Pacific Islander who has a strong influence through music. On his social media, West Papuan Independence Leader Benny Wenda stated:
"It's an honor for the people of West Papua too @JBOOG! We are all so grateful for all your support and Pacific solidarity for our freedom. One day West Papua and all the Pacific will be fully free! The spirits of the ancestors of my people are with you 100%, please do keep up the great work spreading the message! Thank you so much, Wa wa wa #OneLove" 
All around the world, musicians are using their voices and their talents to stand up for West Papua, raising essential support and awareness for the freedom struggle. For more info about how you can support West Papua through music, please visit the music collective Rize of the Morning Star.