West Papua flags now available through our online shop
May 12, 2015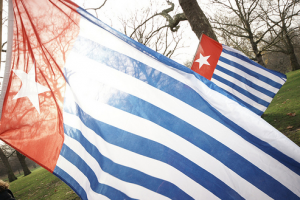 We are now selling the West Papuan national flag (known as the Morning Star or Bintang Kejora) through our online shop.
Available in three different sizes, these flags are digitally printed on high quality knitted polyester, with eyelets/rope and toggle fixing.
There are Papuans serving 15 year prison sentences for simply raising this flag in a peaceful manner. Please show your support and solidarity for those in occupied West Papua.
We deliver worldwide, and all proceeds from sales will be used towards the campaign for a free and independent West Papua. Available here.