Is media freedom more than words?
May 11, 2015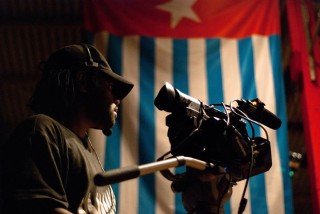 The Free West Papua Campaign (FWPC) welcomes news that journalists may now be able to visit West Papua. During his second visit to West Papua, Indonesian President Joko Widodo said visa restrictions are to be lifted.
The announcement comes just days after a global day of action 'for journalist access' saw 20 protests in 10 different countries organised by rights group TAPOL and supported by the Free West Papua Campaign.
The FWPC welcomes all efforts by journalists to report on the atrocities that continue to be perpetrated on the West Papuan people by Indonesian security forces.
Benny Wenda, West Papuan Independence leader with the Free West Papuan Campaign said of the announcement:
"Media freedom is essential to report on the issues plaguing West Papua. We invite journalists to travel to West Papua. We stand ready to provide what support we can to make such visits a success and expose the truth to the world."
The FWPC is concerned that soon after the announcement conditions have been reported in the Indonesian media raising questions about whether Widodo will walk the talk and ensure the changes happen.
Kompas.com reported that foreign media will not have free and open access to West Papua and that conditions will apply. Journalists will not be allowed to write things that "contain slander or vilify-disfigure the Indonesian government" it reported. TNI Indonesian military are likely to have the final say on which journalists are allowed to report, it said.
Coordinating Minister for Political, Legal and Security Tedjo Edhi Purdijatno said that journalists can go but reporting must not contain slander, lies, or attempts to vilify or disfigure the Indonesian government in a biased way.
"Perhaps it should first be selected who can go. Because security is linked between TNI and Police and we also have to be responsible for their safety. If anything goes wrong we can be blamed as well. They will select," said Tejo.
There are many issues that need reporting on, not least recent tragedies including:
The killing of Papuan high school students in Panaii on December 8th 2014 by the TNI Indonesian military.

The state organised torture and murder of KNPB political activist Martinus Yohamme in Sorong in May 2014.

The shootings and murder of civilians by the Indonesian police in Yahukimo in Jan 2015.
Media organisations interested in reporting on West Papua are welcome to contact the FWPC.