West Papua flag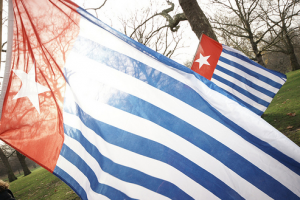 Show your support and solidarity for the people of West Papua in their independence struggle by purchasing the Morning Star flag. This is the flag of a nation of people struggling to be free, and there are dozens of Papuans serving lengthy prison terms for peacefully raising it.
These are premium quality flags, made in the UK with the pantone colours correctly matched to the West Papua flag specification.
The small flag does not have fixings but the medium and large both have brass eyelets.
Available in three sizes:
small (desk) flag – 30cm x 20cm 
medium size – 75cm x 50cm
large flag – 150cm x 100cm
PLEASE NOTE: due to changes in international regulations in effect from JULY 1ST 2021, supporters buying merchandise to be sent to countries in the EU may have to pay additional fees in order to receive their items.  If you are ordering items to be delivered to the EU, we advise you to check your country's VAT regulations for items imported from GB before placing your order.  The charges will vary depending on which country you live in.  We are sorry for this change and we are seeking advice as to whether we can prevent these charges being incurred in the future.