Police ban West Papuan rally
August 13, 2013
Media release from Australia West Papua Association (AWPA).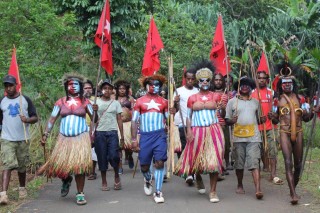 A number of peaceful protests and cultural parades, planned to protest the signing of the New York Agreement on the 15 August 1962 have been banned by the police in West Papua. The peaceful protests co-ordinated by the KNPB are to take place throughout West Papua in Wamena, Yahukimo, Nabire, Biak, Sorong, Manokwari and Timika. The rallies are also to show support for the opening of the Free West Papua Campaign office in the Netherlands
Joe Collins of AWPA said, "The New York Agreement was a betrayal of the West Papuan people". President Thomas Wilson said " …that no right anywhere exists to hand peoples about from sovereignty to sovereignty as if they were property"
And this is exactly what happened to the West Papuan people. Handed over by one colonial power, The Netherlands to another, Indonesia with a short administration period by the UN as a face-saving compromise for the Dutch and the international community.
It is not only the right to freedom of peaceful assembly and association that is under threat in West Papua (article 20 Universal Declaration of Human Rights) but also freedom of the press. Just days after the distribution of its first edition, the Pelita Papua magazine was banned by the police for portraying the symbol of the Free Papua Movement on its cover.
Joe Collins said that "hopefully the rallies will be allowed to go ahead peacefully and there will be no repeats of the crack down by the security forces on the rally that took place on the 1 May which resulted in the killing of three people and the arrest of up to 20.
Although an application for permission to hold the peaceful demonstrations was sent to the police, the Jayapura police chief said permission would not be given.