Papuan cultural parade to be held on 15th August in West Papua
August 9, 2013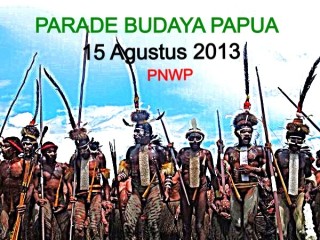 The KNPB (West Papua National Committee) and PNWP (West Papua National Parliament) will march through the streets of West Papua on August 15th on a Papuan cultural parade in support of the Free West Papua Campaign opening a new office in the Netherlands as well as in rejection of the "New York Agreement" of 15 August 1962 where the USA and the government of the Netherlands sold West Papua to the Indonesian government for gold and better cold war political relationships with no consultation whatsoever with the West Papuan people.
They will also parade in support of West Papua joining the Melanesian Spearhead Group (MSG) and finally to welcome and support the opening of the new Free West Papua Campaign office in the Netherlands on the same day.
Statement by Chairman of West Papua National Parliament (PNWP), Buchtar Tabuni
"Cultural Parade event will be held simultaneously throughout the country West Papua on August 15, 2013
For that we deliver to the people of West Papua the villages and towns to participate in West Papua's culture event with the theme "Our One Demand: Recognition of Self-Determination alone"."-Buchtar Tabuni, Chairman (PNWP)
Indonesia already banning leaflets in a further attempt to silence freedom of speech
Last month the Indonesian government banned an impartial Papuan magazine as it "contained a cartoon picture of the West Papuan flag and information about the possibility of a Free West Papua".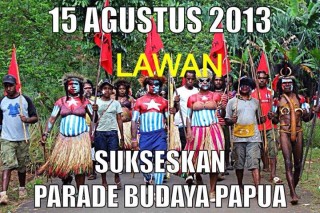 This month Indonesia has banned anyone from handing out leaflets for the upcoming Papuan cultural parade.
There is nothing illegal, even under Indonesian law about distributing leaflets promoting a West Papuan cultural parade.
This is another poignant example of the measures Indonesia will take against any Papuans even celebrating their own culture.
In the last two months, the Indonesian government has shown its fear of flowers, leaflets, magazines and journalists by banning all of them while at the same time continuing to indiscriminately kill West Papuan people including children such as 11 year old girl, Arlince Tabuni.
FWPC Statement on the parade and how you can help to promote the event
Our greatest support and thoughts are with the people of West Papua for this day of cultural identity and support for the Free West Papua Campaign.
We recognise the distinct cultural identity of the West Papuan people from Indonesia and demand the international recognition of the Papuan people's inalienable right to self-determination.
We ask you to please spread the news about the event as much as possible in order to draw international attention to what is expected to be a very important and mass parade throughout West Papua.
Please keep the people of West Papua in your thoughts as they continue to risk further oppression, injustice and their own lives by marching in this parade on 15th August.
Thank you very much