Buchtar Tabuni arrested in MSG protest crackdown
June 12, 2013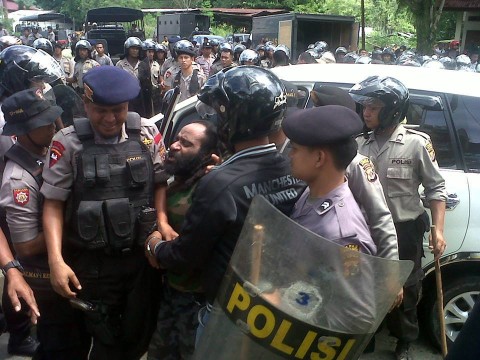 Head of the West Papua National Parliament and a West Papua National Committee (KNPB) leader, Buchtar Tabuni has been arrested today by dozens of heavily armed Indonesian police whilst going to watch a soccer game, following a mass KNPB protest he led the day before in Jayapura, calling for the Melanesian Spearhead Group (MSG) to welcome West Papua into joining the group.
Police grabbed Buchtar Tabuni and tortured him in the middle of the street. They tore his right ear, broke his head in the middle, tore his lips and beat up his back. After he was arrested, he was taken to police office.
Buchtar had his two cell phones taken away by police and though he was later released, he received no medical treatment for his highly serious injuries.
The KNPB Chairman, Victor Yeimo, remains in prison
URGENT ACTION NEED
What you can do to help Buchtar and his people at this time.
Please send a text message (SMS) or telephone to the head of police in Papua and the Jayapura police Chief requesting that they release the activists and let him know we are watching.
Jayapura police chief: +62852 4466 7949.
Head of Police in Papua – Tito Karnavia: +62811161777
Please phone, we recommend that you say clearly and loudly: "Stop arresting and torturing innocent West Papuan activists, you must respect international human rights. Stop killing innocent West Papuan men, women and children.
Free the people of West Papua, we are watching you"
We recommend you send the following text (SMS) message:
"Bebaskan Victor Yeimo dan aktivis KNPB. Kami mengawasi dengan cermat apa yang Anda lakukan. Anda harus Menghormati hak asasi Manusia Internasional. "
Translation: "Free Victor Yeimo and the KNPB activists. We are watching closely what you are doing. You must respect international human rights."
Please keep the West Papuan people in your hearts and minds at this time of tragedy, thank you very, very much.
One day, freedom and justice will come to the people of West Papua.