Twitter remove 795 fake accounts created by Indonesian Government
April 2, 2020
In 2019, investigative journalism website Bellingcat uncovered a co-ordinated online propaganda operation being run by the Indonesian Government. The investigation uncovered a network of hundreds of fake social media accounts across platforms including Facebook, Twitter and YouTube, attempting to skew international views of West Papua and the ongoing genocide.
In a major development, Twitter have today announced that they have removed 795 fake accounts created by the Indonesian Government.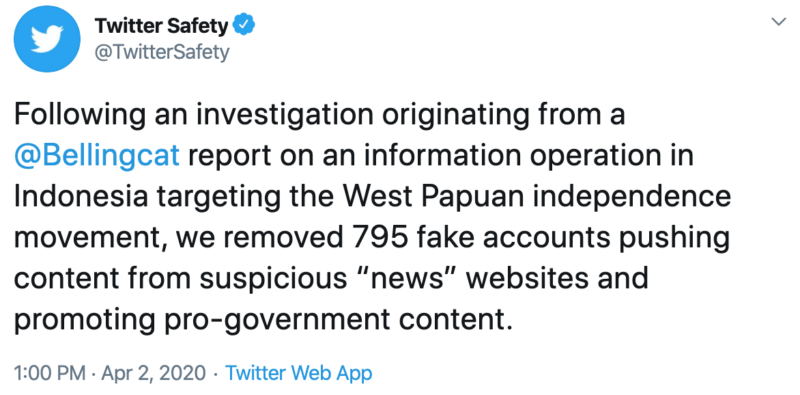 The Indonesian Government has invested hundreds of thousands of dollars on an online propaganda campaign across social media in an attempt to deceive the international community about the situation in West Papua. Over 500,000 innocent civilians have been killed by the Indonesian military in an ongoing genocide that continues to this day. Foreign media and UN human rights monitors are consistently denied access to the region to investigate.
Other social media platforms including Facebook have also taken action to remove accounts masquerading as official news outlets posting pro Indonesian Government propaganda about West Papua.
Bellingcat investigators Benjamin Strick and Elise Thomas have compiled a 48 page report on the propaganda campaign called 'Investigating Information Operations in West Papua' which can be downloaded here.
Their investigation identified a network of easily recognisable "bots" – or automated accounts – which were sharing the same pro-government content about West Papua at the same time. The bots would jump on to hashtags being used by groups supporting independence, such as #freewestpapua, so they swamped negative reporting with positive stories about investment in the region.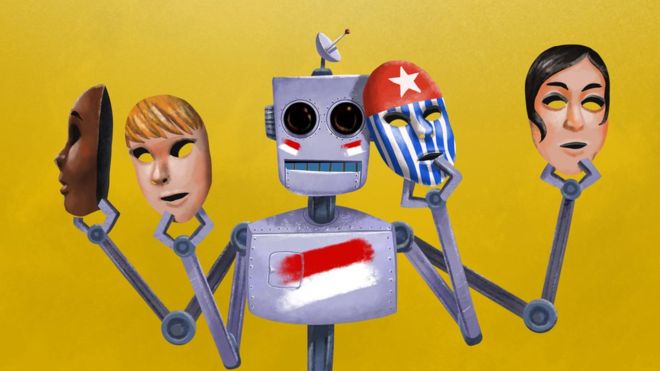 We would like to thank Bellingcat, Twitter, Facebook and other social media networks for their ongoing work in identifying and removing these fake accounts created by the Indonesian Government.
The truth about Indonesia's illegal occupation of West Papua and the ongoing genocide will never be hidden. The movement for a Free West Papua is unstoppable and the people of West Papua will be free.