West Papuans' human rights violated on Human Rights Day
December 11, 2018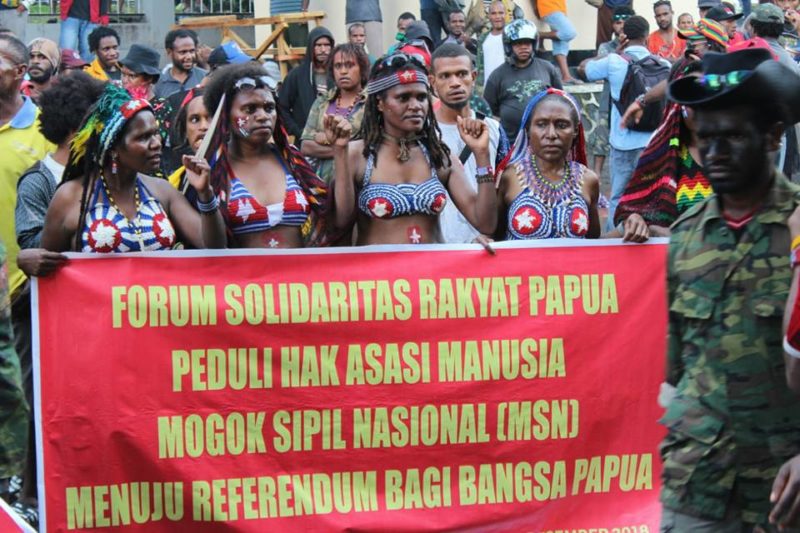 In recognition of  Human Rights Day thousands of West Papuans marched in peaceful demonstrations organised across every area of the region.
On a day that was supposed to be about honoring the United Nation's adoption of the  Universal Declaration of Human Rights, West Papuans ironically had several of those rights violated by their Indonesian oppressors.
According to an initial report by the Komite Nasional Papua Barat (KNPB) 90 participants were arrested. In the Timka and Merauke regions police confiscated megaphones, pamphlets, and cellphones. Among those arrested were two children, both only one years old. 
The demonstration at Cenderawasih University was organised by the departments of Social Sciences and Law, and Math and Natural Science faculties. The demonstration was blocked by police. Particpants tried to continue by relocating to other areas, but all attempts were shut down.
The KNPB also states that demonstrators were beaten, but specific details of beatings are unknown at this time.
Since the early 1960s, the people of West Papua were supposed to be protected by the United Nations.
As a territory on the list of non-self governing territories, West Papua was supposed to be held in "sacred trust." According to their own charter, the U.N. had an obligation to bring the country in waiting to self government.  They again had a duty to protect the people when West Papua became the first territory the U.N. ever took over administration of as part of a post-conflict resolution. They failed West Papua when they handed over administration to Indonesia within a few months.
The biggest dereliction of duty was in 1969 when the U.N. was supposed to protect West Papuans by supervising the 'Act of Free Choice.' The U.N. representative left the territory before the vote was scheduled to take place. The staged vote was carried out without universal adult Papuan suffrage with only 1,026 West Papuan men being allowed to "vote." Their "vote" was to read prepared scripts and raise their hands on camera under the threat of violence. The unanimous results in favor of Indonesian rule raised no challenges or inquiries by the U.N, but was instead simply 'noted' and allowed to become the foundation on which Indonesia has based in sovereignty claim over West Papua ever since.
Abandoned by the U.N and illegally handed over to Indonesia, West Papua has been ignored for the last six decades.
In a recent interview Ravina Shamdasani, Spokesperson of the U.N.'s Office of the High Commissioner on Human Rights (OHCHR), referred to West Papua's problems as "complex." What has caused West Papua's problems to become "complex" is the failure of the United Nations to intervene on their behalf, and give the people the vote on self-determination they were promised by the international community. Reports of arbitrary arrests, beatings and killings are frequent. The evidence of human rights abuses in West Papua are prevalent enough to warrant an immediate response. The oppression of the people of West Papua has been going on for far too long. It is time for the United Nations to uphold their own charters and declarations and Free West Papua.


Peacefully gathered in prayer  in Jayapura 
Indonesian police confiscating campaign materials. Pro-independence leaflets and fliers are considered illegal, and possession of can bring charges of treason for West Papuans. 
Indonesian police shutting down the rally in Jayapura
Posted by Kellas on Monday, 10 December 2018
Before police intervention, the people in Sorong West Papua singing and dancing during their peaceful demonstration.
Following are the names of those arrested.
1) Eman Dogopia (Mee Tribe Field Coordinator).
2) Meri Mote (Mee)
3) Yance Tenouye (Mee)
4) Penehas Nawipa (Me)
5) Wenas Kotouki (Mee)
6) Niko Sada (Biak)
7) Yeheskiel Waita (Kaimana)
8) Yohana Kobogauw (Moni)
9 ) Art Tenouye (Mee)
10) Marci Nawipa (Mee)
11) Aleks Anouw (Mee)
12) Hengki Douw (Mee)
13) Frans Kotouki (Mee)
14) Ulis Wetipo (Dani)
15) Ephesus Hisage (Dani)
16) Atimus Aspalek (Dani)
17) Yopi Esema (Dani)
18) Ariana Magai (Damal)
19) Anthon Osei (Asmat)
20) Kiwoni Ererak (Dani)
21) Benny Erepore (Dani
22) K iwoni Ererak (Dani)
23) Olince Waine (Mee)
24) Ima Waine (Mee)
25) Deky Nawipa (Mee)
26) Derek Tekege (Mee)
27) Yosina Tekege (Mee)
28) Hosea Giyai (Mee)
29) Otniel Tebai (Mee)
30 ) Hesegem (Dani)
31) Lukius Tabuni (Dani)
32) Lina Gobai (Mee)
33) Habakuk Gobai (Mee)
34) Olina Jagani (Moni)
35) Otopince Kamo (Mee)
36) Gerson Osei (Asmat)
37) Messe Osei (Asmat)
38) Pelipus Sondegau (Moni)
39) Ham Sondegau (Moni)
40) Nopelinus Sondegau (Moni)
41) Delpian Dimi (Mee)
42) Oto Waine (Mee)
43) Derek Tekege (Mee)
44) Emi Edowai (Mee)
45) Olis Giyai (Mee)
46) Paustina Douw (Mee)
47) Lukas Boma (Mee)
48) Kris Waine (Mee)
49) Alpons Boma (Mee)
50) Ham Tenouye (Mee)
51) Elius Wenda (Dani)
52) Esprat Hisage (dani)
53 ) Viktor Hisage (Dani)
54) Tresia Pekei (Mee)
55) Yopinus Diwitau (Moni)
56) Yerom Abugau (Moni)
57) Melianus Tenouye (Mee)
58) Endamai Cash (Moni)
59) Ministry of Health (Dani)
60) Paulina Wanimbo (Dani)
61) Pelipus Tabuni (dani)
62) Yuri Kogoya (Dani)
63) Luky Siep (Dani)
64) Roby Kogoya (Dani)
65) Yosina Lokobal (Dani)
66) Gores Nasia (Dani)
67) Yafet Murib (Damal)
68) Deky Kogoya (Dani)
69) Urbanus Kossai (Dani)
70) Mesak Hosei (Asmat)
71) Ima Gobai (Mee)
72) Governor Wenda (Dani)
73) Trinus Fabika (Dani)
74) Septon Asmurib (Sorong)
75) Yakob Rumrapok (Biak)
76 ) Nokodemus Kowip (Muyu)
77) Zet ​​Eropele (Dani)
78) Oktovianus Dimi (Mee)
79) Sem Murib (Damal)
80) Oktovianus Gobai (Mee)
81) Sem Murib (Damal)
82) Stepen Haluk (Dani)
83) Resah Haluk (Dani)
84) Roby Hai (Sorong)
85) Yulianus Dimi (Mee)
86) Marthen Rekabea (Nduga)
87) Alin Gobai (Mee)
88) Marthen Enggalsie (Nduga)
89) Musa Kayame (Mee)
90) Isaac Wetipo (Dani)
91) Yustinus Pigome (Mee)
92) Osea pigome (Mee)
94) Aberaham Gobai (Mee)
95) Rikal Rumansara (Biak)
96) Gerson Ukago (Mee)