UK artists Rockin' the Mic for West Papua
December 8, 2018
Throughout history every political movement has had a soundtrack that organically grew from its spirit of dissent and aspirations for justice. You can trace any genre to find struggle and a sense of purpose deeply woven within its texture. As West Papua's cries for freedom reach artists around the world, creators have begun to add their voices to an urgent conversation.   
The Free West Papua Campaign has put out many calls to action challenging artists to use Music as a Weapon, as a means of delivering a message about West Papua's fight for freedom. Over the last few years hundreds of musicians across the globe have been heading the call, and dedicating their talents to raise awareness about West Papua and the ongoing human rights abuses the indigenous people have endured for over 50 years.
After performing as part of this years' Rockin' for West Papua Global Peace Concerts, UK hip hop artist  AJ Russell aka 'CARPETFACE' still had more to give. When asked why he wanted to do a new show he said "After doing the last show, and then receiving such a moving letter from independence leader Benny Wenda, I got to thinking about what else we might be able to do. In the past I've had some experience running nonprofit events as a consultant, curator/promoter, and felt there was still a lot more good that could be done for the people of West Papua." 
Having recently launched the online platform  Hip Hop Hub UK, and joining the London Promoters' Society advisory board, CARPETFACE was ready to align all of his collaborative partners and launch an ambitious effort to start doing good for a cause he is passionate about. He reached out to his many artist friends and industry professionals from  Blatantly Blunt, Chop Shop, And What? Events, Break The Code,  Poetic Justice Events, and Empire Bar Hackney to lay out his vision to see if they would join in. In just a few days the community had rallied together enough artists and resources to launch Rockin' the Mic for West Papua.
The show promises to be a diverse expression of solidarity with the people of West Papua. An eclectic collective of UK artists will be taking a stance on Dec 15th at the Empire Bar 291 Mare St, London E8 1EJ.
For tickets purchase here on Shoobs.com £6.00. All proceeds go to support  The United Liberation Movement for West Papua (ULMWP).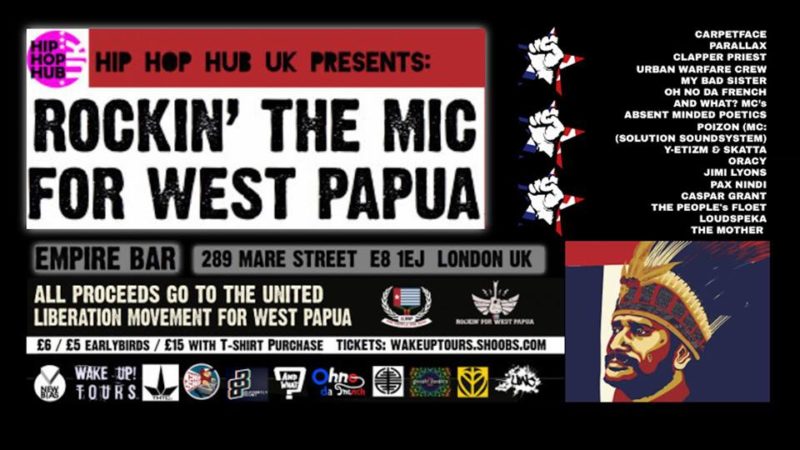 Spanning genres from dancehall, roots, reggae, dub, african reggae, electronica, and conscious hip hop, the massive party will deliver 4 hours of live music from 7:30 pm to 2 am. Brought to you in proud association with Blatantly Blunt and The London Promoters' Society, Rockin the Mic for West Papua's line up features:
Urban Warfare Crew(Jungle/DnB) 
Ohno da French (live MPC Hip Hop) 
AndWhat Events MCs 
Absent Minded Poetics(live #HipHop) 
Clapper Priest (UK Dancehall legend) 
CARPETFACE loopstation set (100% live-played dubby Hip Hop) 
My Bad Sister (insane bassline with a naughty twist)
C.A.M (Hip Hop) 
#POIZON (MC Solution Sound System) (Dancehall)
Y-ETizm & Skatta Skatta & Y-ETizm (#Grime / #MPC) 
Oracy (Live Hip Hop + Grime) 
Caspar Grant (Live Hip Hop) 
Jimi Lyons (#Acoustic #RootsReggae)
Pax Nindi ( Acoustic #AfricanReggae) 
The Peoples Floet (#PoeticJusticeEvents) 
Loudspeka Spoken Word & Beatsp 
+ #TheMother ( Break The Code crew)
"I'm pretty blown away by the goodwill I'm seeing and can't wait for the event. It's been a real pleasure to put the thing together and I hope we end up doing a bunch of these." – CARPETFACE
#MusicIsAWeapon #FreeWestPapua #SupportIndependentHipHop