MCR PUNKS FOR WEST PAPUA present legendary UK punks on Global Flag Raising Day
December 5, 2018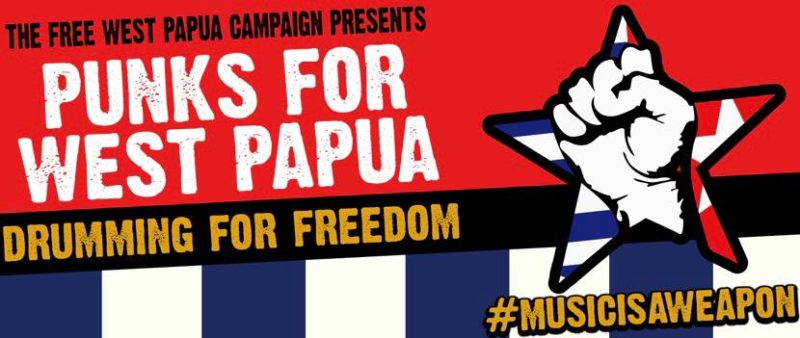 On December 1st people around the globe raised the Morning Star Flag in a strong show of solidarity for West Papuan freedom. Over 100 #GlobalFlagRaising demonstrations were held across the world and in every region of West Papua.
Taking up the cause in Manchester, the incredible MCR Punks For West Papua team threw a very loud and passionate gig to help raise awareness in the UK.
Legendary Manchester punk bands supporting the cause were Witch Fever, The Membranes, The Blinders, and MFU. In  a venue filled to capacity, New Zealand born PR Man Richard J Hillgrove VI took to the stage and delivered this impassioned speech:
"Hi there I'm Richard Hillgrove, representing tonight the son of Dame Vivienne Westwood,  the late Sex Pistols Manager Malcolm McLaren, and Joe Corré.
No one here actually knows what West Papua is and here tonight we're standing up for the Global Flag Raising day, today, which is in 50 countries. So we're making a stand. Don't be complacent. Accept the fact we don't really know what fucking West Papua is. It's a country of 3.5 million indigenous people. And BP, British Petroleum is in there exploiting and savaging and raping these people for profits right now. There is a slow genocide going on right now. There's 500,000 people been murdered in West Papua. We hear that in 1961 Indonesia stepped in. But right here right today, the world is turning away in silence, watching. The British government has spent £1,000,000 training the Indonesian military to murder the indigenous population in West Papua. These are real people. There's been a 25 year media blackout. Thanks to Mark-fucking-Zuckerberg people are publishing videos of atrocities for the first time in twenty five fucking years. You are here tonight to raise money and awareness for a country no one has ever fucking heard of. Free West Papua. Stand and raise this flag."
To get involved please go to: https://www.facebook.com/MCRPunks4WestPapua/
News of the upcoming Drumming for Freedom world record attempt in 2019 coming soon.