Join our 'Rockin for West Papua' global peace concert – October 2018
Announcing our biggest music event ever!
Rockin For West Papua is an international series of Music & Arts events in association with Rize of the Morning Star, where artists and individuals use music and art to raise awareness of the freedom struggle and human rights abuses of the indigenous people of West Papua.
Now in it's third year, with an ever growing group of AWESOME artists from around the world 'Rockin for West Papua' the month of October 2018 is set to be the biggest global peace concert yet.
Calling all artists; Musicians, DJs, Get in touch to get involved!
The people of West Papua have been suffering under Indonesian occupation since 1963 when 1,026 people (0.2 % of the population) were held at gunpoint and forced to agree to become Indonesian.  Since then, over 500,000 civilians have been killed and reports of military and police oppression,  kidnapping,  torture, and intimidation are a reality for the people of West Papua daily.
Indonesia bans foreign media and human rights groups from operating in West Papua, meaning the international community and governments know nothing, and do nothing.
The West Papuan people are fighting for their lives & land against a brutal Indonesian occupation, and against the world's most powerful corporate giants.
They are in desperate need of international support.
Last year there were over 150 bands playing in 27 concerts in 5 countries around the world and this year we hope for an even bigger event!
It's time to make some noise for West Papua & #MusicIsAWeapon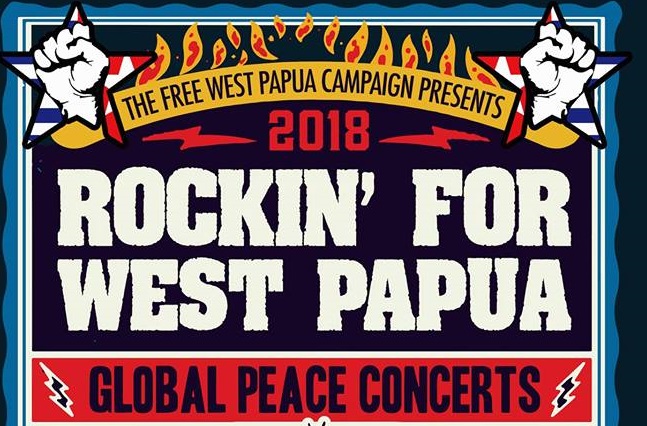 Expressions of interest are invited from bands, artists, venues or promoters that would like be involved in Rockin For West Papua 2018 – please message us ASAP so we can coordinate each city.
Please go to Rockin for West Papua Facebook page or contact:
Australia – ash@FreeWestPapua.org
or
UK –  kate@FreeWestPapua.org