Another West Papuan youth tortured by the Indonesian police in Nabire
January 19, 2016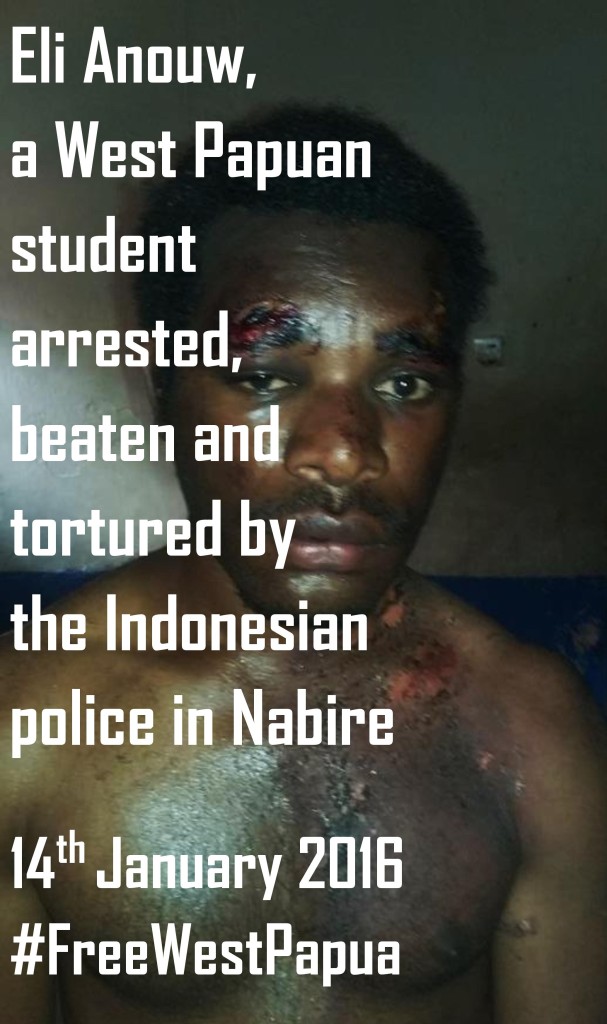 We have just received urgent news from occupied West Papua that another West Papuan youth has been reportedly arrested, beaten and tortured by the Indonesian police. According to the report, West Papuan student Eli Anouw was arrested without clear reason in the Nabire regency and was then beaten and tortured by the Indonesian police. He was taken to the Indonesian police station and is apparently still in police custody to this day.
We fully condemn this heinous Indonesian police brutality and we call on the Indonesian police responsible to be brought to justice and for Eli Anouw to be given the full medical treatment that he deserves,
Such brutal cases highlight further calls for a high level Pacific Islands Forum Fact Finding Mission to be sent to West Papua in order to expose and detail these ongoing human rights abuses.
The continued reports and evidence of ongoing and systematic torture by the Indonesian security forces against West Papuans is beginning to show the world the real situation in West Papua. The Indonesian government cannot continue to hide their litany of torture, rape and murder in occupied West Papua; the world is finding out the truth.
To find out more about how you can help the people of West Papua and the struggle for freedom, please TAKE ACTION HERE.