Indonesia's deforestation in West Papua causing health problems in Papua New Guinea and Micronesia
December 15, 2015
Recently, the world has learned about the blanket of smog across Indonesia caused by deforestation but in occupied West Papua, there has been so much rampant deforestation that the smog is now causing health problems across the region, including in Papua New Guinea and Micronesia. Below is a satellite image of the recent fires and smog in West Papua caused by the rapid burning West Papua's rainforests.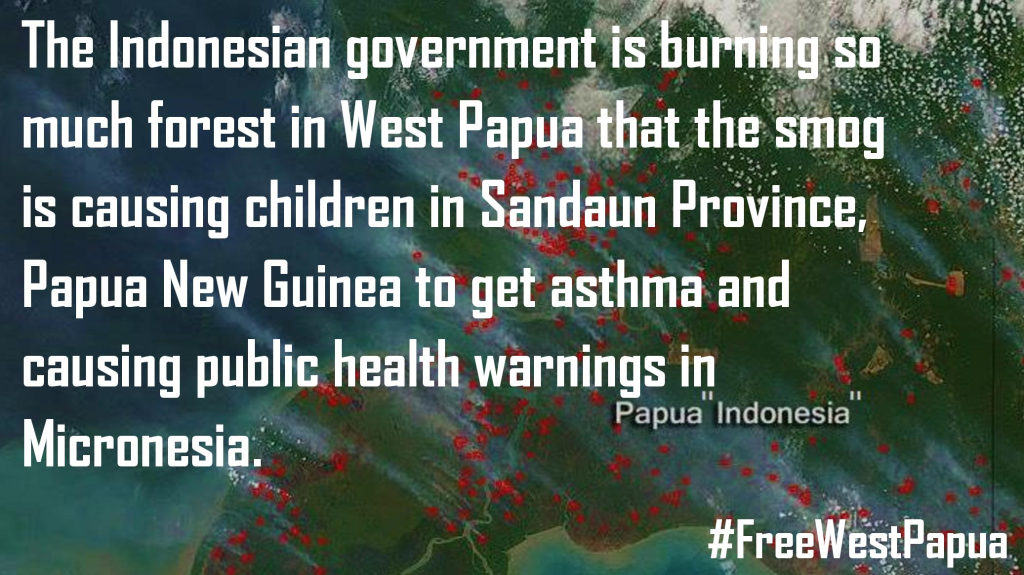 According to Radio New Zealand, PNG Environmentalist Dorothy Tekwie from Sandaun Province says that the rampant clearance of forests and peatland on the Indonesian side of, particularly around Merauke, has created more fires. She says,
"A lot of people here, especially kids, are getting a lot more asthmatic attacks from increasing asthmatic activities and incidences here in this village (Lido) alone. It's like three times a week I have to drive people to the hospital at night because they're short-winded."
Such smog is now making its way northwards to Micronesia and the Guam Department for Homeland Security said in a recent statement. "As a precaution, those with respiratory issues should limit their time outdoors."
Radio New Zealand also recently spoke with Greenpeace who has talked of how the impact of the many forest and peatland fires in West Papua is having a devastating effect on West Papuan society.
They interviewed Greenpeace's Indonesia forest campaigner Yuyun Indradi who said the fires have belched carbon haze across the region which is a health hazard for many communities.
"This is also a problem that they are now facing, they're losing their livelihood source in terms of forest and peat where they can get their food, and it's also part of their culture."
The Indonesian government has never had any respect for the land nor people of West Papua and this latest surge of deforestation as well as forest fires shows more evidence of the destruction the Indonesian government is causing in occupied West Papua; in yet further attempts to exploit the West Papua's natural resources.
Much of this environmental destruction is being caused by the mega industrial agriculture projects in West Papua, particularly in the Merauke Region where millions of hectares of rainforest, belonging to West Papuan villagers ave now been logged.
We urge everyone to please SIGN THIS PETITION started by Rainforest Rescue, calling for the mega industrial agriculture projects in the Merauke Region of West Papua to be scrapped.
Over 70% of West Papua is forest and the people of West Papua have relied on it for tens of thousands of years to survive. But now nearly 300,000 hectares of forest are being logged every year in West Papua and 27.6 MILLION hectares have already been designated as "production forest".
Many logging companies are working with the Indonesian military and West Papuans opposing them have been accused of supporting the Free West Papua movement and subsequently targeted.
Over 500,000 (1 and 3) West Papuans have already been killed as a result of the illegal Indonesian occupation of their country. Without the forest, without their land and livelihood, how will the people of West Papua continue to survive?
The genocide and environmental destruction in occupied West Papua must be stopped.