Free West Papua demo held outside Indonesian Embassy in London
May 23, 2015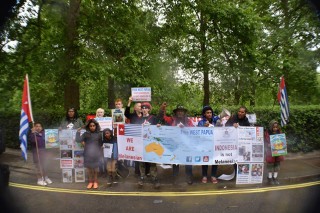 Today the Free West Papua Campaign held a demonstration outside the Indonesian Embassy in London, United Kingdom to call for West Papua to be free.
We stood in front of the Embassy in Grosvenor Square and despite the rain we were determined to stay and raise our voices in protest. We made sure to keep up the pressure on the Indonesian authorities responsible for the ongoing genocide and illegal occupation of West Papua.
We also showed our support for the West Papuans arrested by the Indonesian police in West Papua this week just for peacefully demonstrating for membership of the Melanesian Spearhead Group (MSG). We have had reports that over 100 West Papuans were arrested this week during these demonstrations and many of them were tortured.
The demonstration was a success and we raised important awareness and support for the Free West Papua Campaign, in London.
We would like to thank everyone who attended the demo today. It is always important that there are people all round the world to show their support for the freedom of West Papua and so we are encouraged that people heard about this event and came in solidarity.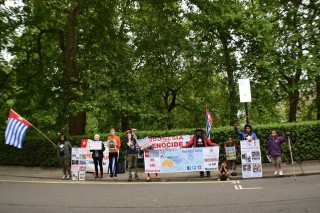 We will keep you all updated about the next Free West Papua Demonstration. Until then, let us all keep the momentum. Around the world support is growing faster than ever now for the cause.
We are sure that one day West Papua will finally be fully free and independent.
Free West Papua!