Dozens of West Papuans arrested, many tortured for joining pro MSG rallies
May 28, 2015

Media advisory – for immediate release
Dozens arrested and many injured as police crackdown on protesters in West Papua
28 May 2015 – At least 81 people have been arrested in West Papua by Indonesian authorities at a number of protest rallies. Reports of beatings and mistreatment continue to emerge and the fate of those arrested remains uncertain.
The peaceful protests were held in support of West Papua's application to the Melanesian Spearhead Group (MSG), an intergovernmental regional trade and cooperation body.
A pivotal vote will take place in the Solomon Islands when the group meets in late June. West Papua's application is opposed by the Indonesian Government.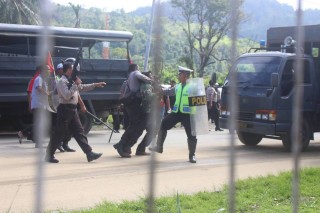 Reports from the ground said that at least five people were injured after police attacked protesters, one seriously after being struck in the head by a rubber bullet – UCA news reported.
Protesters mostly from The National Committee for West Papua (Komite Nasional Papua Barat – KNPB) were arrested and some beaten by the police in Jayapura, Numbay, Nabire and Wamena.
KNPB news in Jayapura reported that police fired guns twice and that protesters hurled stones in response.
Photos by a journalist at the scene in Jayapura show one man with serious head wounds and another unarmed man being beaten by a policeman in riot gear whilst being held around the neck by another. A third photo shows a protester bleeding on the ground surrounded by police.
KNPB news Numbay, reported that police broke up a peaceful protest in Numbay and arrested 8 people soon after speeches started.
It is thought that 42 people were arrested at different locations in Jayapura, 25 at rallies in Wamena and 6 in Nabire and 8 in Numbay. The fate of those arrested is unknown.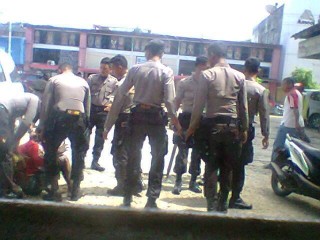 Independence leader Benny Wenda said of the situation:
"The brutality happening right now in West Papua is totally unacceptable. There is no freedom to speak. Indonesia says it promotes free speech and democracy, but it responds with beating people. The Melanesian leaders need to welcome West Papua to the MSG and stand up to these Indonesian atrocities."
The MSG comprises the states of Papua New Guinea, Solomon Islands, Fiji and Vanuatu, as well as the Kanak Socialist National Liberation Front, a political party from New Caledonia. The previous admission of the New Caledonian party to the group set a precedent as the first member which is not a recognised nation state, which West Papua intends to follow.
Meanwhile Indonesia has submitted its own application for 'Associated Membership' of the MSG which the Prime Ministers of Papua New Guinea and Fiji and pledged to support.
Contact: Phone: +44 7411 053953; +44 1865 403 202                     
Email: office@freewestpapua.org