Hundreds arrested across West Papua at 1st May protests
May 4, 2015
A large number of rallies were held across West Papua on 1st May when people remembered and protested against the original handing over of the administration of West Papua from the Netherlands to Indonesia on 1st May 1963. It has been reported that up to 269 people were arrested at these demonstrations. At a large rally in Manokwari, around 150 people were arrested with others being arrested at protests in Jayapura, Merauke, Kaimana, Fak Fak and also in Surabaya.
In 1963 the UN handed over the administration of West Papua from the Netherlands to Indonesia. This began 52 years of human rights abuses with up to 500,000 people being killed. The abuses continue to this day, with these huge numbers of arrests showing the reality of life in West Papua. International journalists are banned from operating in West Papua and it is exactly this sort of behaviour by the police that the Indonesian Government is trying to hide. Just two days before these events, rallies were held across the world calling for open access to West Papua for journalists and humanitarian organisations. The arrests on 1st May show just how important it is that the world can see what is happening.
In the run up to these demonstrations 12 activists were arrested in Manokwari for distributing leaflets advertising the rallies. The level of intimidation surrounding these events has been dubbed 'Indonesia's day of terror in West Papua'.
During the demonstrations, people called for freedom for West Papua and a proper referendum to decide the future of West Papua. Many people also gave support to the newly formed United Liberation Movement for West Papua (ULMWP) and their application to join the Melanesian Spearhead Group.
Free West Papua Campaign holds demonstration against Indonesia's day of terror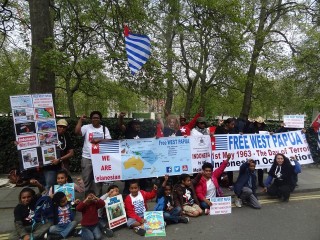 In response to the extraordinary number of arrests, the Free West Papua Campaign held an impromptu demonstration outside the Indonesian Embassy in London on 2nd May. The campaign called for the immediate release of all those arrested and to open access to West Papua allowing international journalists to report on what is happening there.