Photos from global day of action for West Papua
December 6, 2014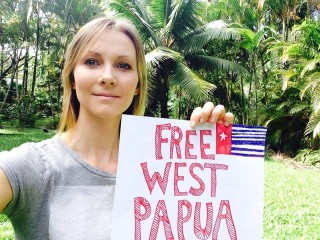 On 1st December, supporters from all over the world raised the West Papua flag as a show of support for the movement for freedom in West Papua.
Here in Oxford, UK, the Mayor flew the West Papuan flag from the Town Hall. In London the FWPC held a demonstration and flag raising outside the Indonesian Embassy, at which a
statement was delivered to the

Indonesian Ambass
ador demanding
the restoration of West Papuan sovereignty and independence through the fulfilment of the  fundamental right to self-determination. 
Of course, in West Papua there were many flag-raisings and demonstrations. However the Indonesian military and police presence and intimidation was ramped up for this occasion and it was so severe in some areas, such as around Wamena, that this made it impossible for people to gather and raise the flag.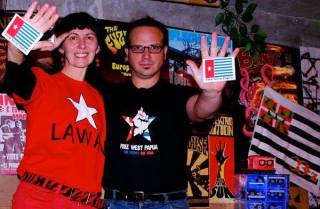 As it turned Dec 1st in the South Pacific, the Morning Star rose from the summery beaches of New Zealand, from
Dilli, East Timor and continued
until it was raised from the wintry mountains of Canada. 24 hours of Rise of the Morning Star action.
However, it is important to remember that whilst photos were freely being shared by people all over the world on social media, that within West Papua it is very challenging and to get photos & news out, but that thousands of people were out on the streets across WP, raising the flag, and risking a lot to do so.
We would like to say once again, thank you all very much for the incredible spirit that you have shown the West Papuan people on this truly historic day. Please continue to raise the West Papua flag whenever you can, and download and share campaign materials from here to help spread awareness of the ongoing genocide that Indonesia is committing in West Papua.
Here is a selection of some of the photos we received from supporters in Italy, Czech Republic, Turkey, Ireland, Scotland, Germany, Netherlands, Sweden, Poland, Norway, Mexico, East Timor, UK, Vanuatu, Papua New Guinea, New Zealand, USA, Australia, Mexico, France, Fiji, Canada, Malaysia and Russia.
Click on the images below to start slideshow