Protest against Indonesian Vice President visit to Oxford University
November 8, 2013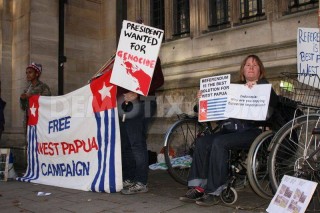 Last week around 25 supporters of the Free West Papua Campaign gathered outside an Oxford University building to protest against the visit of Dr Boediono, the Vice President of Indonesia. The University had invited Dr Boediono to give a talk on "the challenges of good governance." The demonstrators included West Papuans and East Timorese individuals who live and work in Oxford and numerous members of the University.
As we stood outside the building holding placards and Morning Star flags we gave leaflets to those attending the lecture and to passers-by. These leaflets explained that, far from being an example of good governance, Indonesia's illegal occupations of West Papua denies West Papuans their right to self-determination and has led to countless human rights abuses. We encouraged those attending the lecture to question Dr Boediono about these matters.
There were noticeable security measures surrounding the event, with lecture attendees being asked to pre-register and show their University ID and invitation on arrival. When we spoke with an event administrator it was implied that Indonesian security may have screened the guest list.
Dr Boediono managed to keep himself hidden behind his security cover and entered the lecture venue through a back entrance rather than facing the protest.
The demonstration prevented Dr Boediono's visit from passing unnoticed and raised the question of why a department of Oxford University, the The Blavatnik School of Government, had invited him to speak. We were also able to further raise awareness of the situation of the West Papuan people and Indonesia's responsibility for this.
We would like to thank all those who attended.