Launch of Free West Papua Campaign (PNG Chapter)
November 4, 2013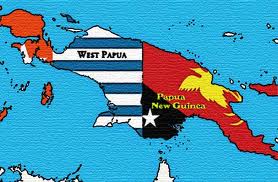 Date: Wednesday November 6th, 2013
Time: 11am to 12.30pm
Venue: Partners with Melanesian Inc., opposite Pacific Engineering, Conference Room, Hohola Industrial Center, Port Moresby, PNG
West Papuan independence leader  Mr. Benny Wenda is presently in Papua New Guinea (PNG). Throughout the month of November (2013) Mr. Wenda, other PNG-based advocates for West Papuan independence and concerned Papua New Guineans will initiate a series of activities. These activities will be in line with efforts to mobilize Papua New Guinean grassroots and national political support to free West Papua of continued colonial subjugation.
A major highlight of Mr. Wenda's visit in Papua New Guinea will be the official launching of the Free West Papua PNG Chapter in Port Moresby (PNG). This entity will coordinate and centralize awareness and advocacy efforts in PNG. The time is right for a Free West Papua chapter in PNG. The permanent and long-term presence of a Free West Papua chapter in PNG will assist in creating awareness and educating Papua New Guineans on the plight of the Melanesian peoples in West Papua who are still denied some of the most basic human rights under the oppressive Indonesian colonial rule. The Free West Papua Campaign recognizes that PNG is the official battleground in the liberation of West Papua.
Coinciding with Mr. Wenda's presence in PNG, we are also expecting Ms. Jennifer Robinson, a learned member of the International Lawyers for West Papua and an expert international law. Ms. Robinson will be in PNG from November the 27th to 29th. Her engagements here will include meeting with PNG parliamentarians and West Papuan refugees in PNG. She will also be involved in public speaking sessions as a way of creating awareness on the international legal issues associated with West Papua's rights to self-determination.
For the West Papuan nation to ultimately be accorded the long overdue right to self-determination, Melanesian, and specifically Papua New Guinean support is critical. There will be specific activities for the month of November, including:
Launch of the 'Sorong to Samarai' initiative a precursor to the West Papuan flag-raising event in December 1, 2013 and in support of West Papua's inclusion in the Melanesian Spearhead Group (MSG)
Public lectures and workshops and
Meetings with Papua New Guinean parliamentarians and public officials with the view to lobby for interested members of PNG's national parliament into the International Parliamentarians for West Papua
For more information contact the following: Mr. Fred Mambrasar (Phone: 73338259) or Mr. Tony Fofoe (Phone: 7049 4380).