West Papuan activists climb into Australian consulate in Bali
October 6, 2013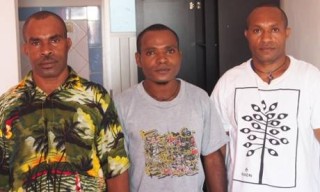 This morning three West Papuan activists (pictured right) climbed the wall and entered the Australian consulate in Bali to seek safety and ask for the release of West Papuan political prisoners. In a letter handed to the consulate staff, the three demand that Indonesia treat them as 'human beings'. The full letter, which was published in the Guardian newspaper, reads:
"Dear brothers and sisters,
We're writing to inform you that we had (sic) entered the Australian Consulate in Bali to seek refuge and to deliver our message to the APEC leaders in Bali including US State Secretary John Kerry and Australian prime minister Tony Abbott.
We want these leaders to persuade the Indonesian government to treat Papuan people better.
Human rights abuses are our routine. Many of our colleagues protested and sought their political aspiration heard. But they ended up [in] prisons.
These political prisoners committed no crime. They are explicitly committed to non-violence. The Indonesian government arrested and jailed them for discussing their political human rights beliefs.
We want the Indonesian government to lift the 50 year restriction it has imposed on West Papua. We want foreigners, including journalists, diplomats, observers and tourists to be able to visit West Papua freely without asking for special permits.
We need your help. We seek refuge and plead for our safety.
October 4, 2013
Sincerely,
Markus Jerewon, Yuvensius Goo, Rofinus Yanggam"
The activists then left of their own accord after they were allegedly threatened that the Indonesian military would be called. The Free West Papua Campaign condemns the action of the consulate staff who would have been fully aware that Indonesian soldiers would likely have beaten and tortured the activists. The activists have a serious claim to refuge which should be respected by Australia.
UPDATE 07/10/13: Today on ABC's Breakfast News, Associate Professor Clinton Fernandes, an expert on West Papua gives evidence of the consulate staff issuing the threats. He says he heard a phone conversation in which an Australian official threatened the trio, leading them to fear for their lives if they were handed over to Indonesian authorities.
"They had the phone on while they were being berated by whoever it was, with an Australian accent," he told ABC News Breakfast.
"It was very, very threatening – the word threat is accurate. There was not a polite conversation.
"They were being threatened with having the military called in and the police. They feared for their lives."
"They [Australian authorities] tried everything, they did everything they could to get them out of the consulate before [Tony] Abbott arrived this morning."
You can see the interview here.